Most people, particularly people who have taken out a short term loan before, know a bit about credit scores. Most people know that your credit score will help determine whether you'll be approved for a loan or not, for example, or that it might determine how much you get to borrow. Maybe you want to know more, though. You might not know how credit scores and credit reports are produced, and you're eager to find out…
In this article, Cashfloat explores the three leading credit reference agencies in the UK and discusses how they store your credit history and give you a credit score.
The three main credit reference agencies (CRAs) in the UK are:
Did you know? Under the EU's GDPR rules that came into effect in 2018, all credit reference agencies must provide you with your credit report for free.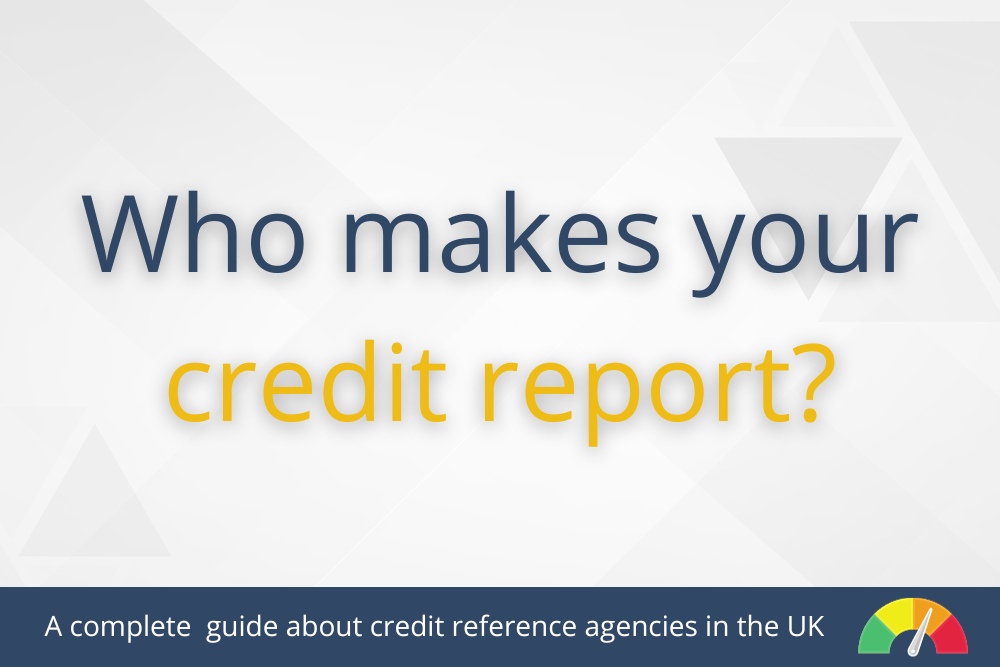 What do credit reference agencies do?
Credit reference agencies, sometimes called credit score agencies, provide information about the credit histories of most UK residents. If you're an adult and you live in the UK, then you've probably got a credit report with all three of the major agencies.
The information they store about you includes personal information, such as your name, address and electoral roll information, as well as a record of aspects of your financial history. The record of your financial history can include things like your credit agreements (such as credit cards or personal loans you've taken out), rent agreements, the financial associations you have with other people or County Court Judgements (CCJs) made against you. Credit reference agencies generate a report about you based on your data, called a credit report, and they also give you a credit score.
The credit reports and credit scores that CRAs keep are important because lenders, as well as other people, use them to make decisions.
Lenders use credit scores to help them decide which customers they can lend to responsibly, what they will offer to lend and under what conditions. Lenders may also look at more than just a person's credit score. Often, they'll also look in detail at the information in an applicant's credit file when they're assessing someone's suitability for a loan. They may check to see whether someone has any outstanding unpaid loans, for example, or they may look at aspects of a person's employment history.

Credit reference agencies do not make decisions about who can borrow money and who can't. They're just independent organisations that hold factual information. Responsible lenders use the information they hold to make a decision about whether to give credit, such as a payday loan or a credit card, to someone who applies for it.
Now we'll look at the history and scoring processes of each of the three main credit reference agencies. We'll also look at how you can find out your credit score at each agency.


The history of TransUnion
TransUnion was originally formed in 1968 in the US but only broke into the UK credit industry when it acquired Callcredit in June 2018. Callcredit was previously the fastest growing credit bureau in the UK and was only founded in the year 2000, making it relatively new compared to Equifax, Experian and TransUnion.
TransUnion offers a wide range of credit risk and fraud prevention services. Most notably, however, it provides creditors with immediate updates to customer profiles if something extraordinary has happened that could affect a customer's ability to pay a debt. This means that instead of lenders finding this information out at the end of the month, TransUnion will inform them as soon as a customer misses a payment.
TransUnion's scoring system – VantageScore® 3.0
TransUnion bases their credit scoring system on the VantageScore® 3.0 scoring model. This system works using percentage weighting factors for your payment history, credit utilisation, age and types of credit, recent credit history and total debt. Besides giving you a credit score and holding the information used to determine what that is, TransUnion also holds other information that lenders need to make a decision about credit applications.
How to get your credit score from TransUnion
TransUnion has partnered with various services that provide free access to your credit history and credit score, including Credit Karma. You can work towards improving your credit score and track your progress as you do so with the services that Credit Karma provide.
One thing to note is that you may find incorrect information when you look at the information TransUnion stores in your credit file. If this is the case, make sure you report this to the organisation that has provided TransUnion with incorrect information or to TransUnion themselves, so they can correct it. False information can sometimes harm your credit score unnecessarily.
Get your TransUnion score
Learn more about TransUnion


The history of Equifax
Equifax is the oldest of the credit reference agencies and was started in the USA in the late 1800s. The two brothers who founded the company ran a different business and began by compiling a list of their customers who were good payers. They then sold this list to other businesses. The company was originally called Retail Credit Company and was founded in 1899. By 1979, the company started using electronic data to assemble records. At the end of the 1980s, Equifax was recognised the world over as one of the foremost credit reference agencies for lenders.
Equifax was also the first CRA to allow ordinary people to see their own records and make corrections if they found any incorrect information in their file. Equifax attracted controversy in the 1960s and 1970s for the information it gathered about people. In some cases, they were accused of even gathering information about people's childhoods and marital troubles in case they found anything that made people less likely to pay debts.
During the 1990s, Equifax grew to become the first choice CRA for lenders in the UK, and the company is still one of the market leaders today.
Equifax's unique scoring system
Equifax does not base its scoring system on the VantageScore® 3.0 system. Instead, Equifax has devised its own model, with scores given as a value between 0 and 1000. Equifax changed their system in 2021, and you can read about how their scores work here. Besides your score, Equifax also tells lenders how often there have been enquiries on your credit record, with these records staying on your file for two years. In addition, they keep public records, such as any county court judgements or bankruptcies. The history does not show any details about your savings accounts or positive balances on any current accounts you have.
How to get your credit score from Equifax
You can get your Equifax credit score and credit report for free with a 30 day free trial of myEquifax. As well as finding out your score and what information Equifax has about you, you'll be able to compare loans and credit cards and use Equifax's services to help prevent yourself from suffering identity theft.
Don't forget to cancel before the 30 day trial finishes so you're not charged!
Get your Equifax credit report
Learn more about Equifax


The history of Experian
Experian is a huge company that operates all over the world, with operations in 37 countries and information on over 1 billion people! In the UK, it has its headquarters in Nottingham.
Experian originated in the US and was first formed within a business called Credit Data Corporation. This business was acquired by TRW Information Systems and Services in 1968, and then sold as Experian in 1996. Eventually, the company Experian ended up in the hands of Great Universal Stores in Manchester, and Experian became established in the UK.
After this, Experian grew and was eventually listed on the London Stock Exchange in 2006. Experian supplies information to all kinds of lenders, including mobile phone companies, car loan businesses and major retailers. By collating information in the form of credit histories, Experian, like the other agencies, helps many lenders to achieve a creditable assessment about the risks of lending.
Experian's scoring system
Experian holds the same kind of data as Equifax and TransUnion about things like peoples' payment histories, types of loans, county court judgements and IVAs (individual voluntary arrangements). They also calculate credit scores using mathematical equations as well. Databases are updated each month, and lenders can access the information through the Credit Account Information Sharing (CAIS) system.
Lender access to information from Experian is strictly limited to members of the CAIS scheme. All lenders must be registered with the Office of the Information Commissioner and operate according to the Data Protection Act. They also must hold a full licence from the Financial Conduct Authority (FCA) under the Consumer Credit Act.
How to get your credit score from Experian
You can view your Experian credit report online through Experian. Remember that you can request a statutory credit report for free, and you may also be able to get information for free through a subscription account.
You can also access your Experian credit score for free through the Money Saving Expert Credit Club.
Get your Experian credit report
Learn more about Experian
FAQs about credit reference agencies in the UK
What information do credit reference agencies hold about me?
The credit reports that credit reference agencies make for you contain information such as the following:
Your name
Your current address and any previous addresses
Your date of birth
Your electoral roll information
Loans you're still repaying and loans you've already repaid
The types of loans you have, e.g. payday loans, personal loans or car finance loans
The balance of money you owe
Missed payments or late payments and other information about your financial behaviour
A list of your current bank accounts and overdrafts
Details of hard checks against your credit file
Information about people you're financially associated with
Most information stays on your credit file for six years, after which it is erased. This is true for information related to financial accounts, such as credit cards or loans. If you default on a loan, for example, the default will be displayed on your file for six years. After this time, it will be erased, and new lenders won't know anything about it. Other information, such as bankruptcy or IVA information, may stay on your file for longer on some occasions.
Information about responsible financial behaviour is also kept on your file and helps to give you a good credit report and a good credit score!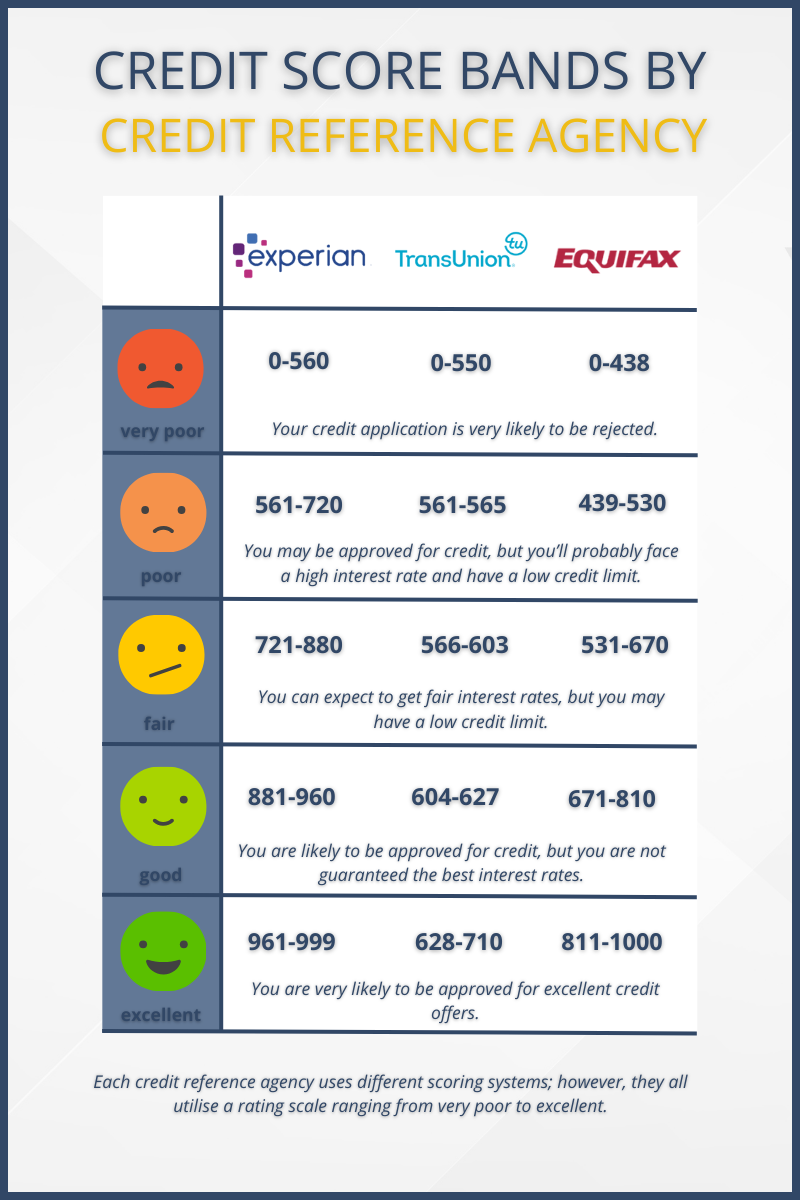 Should I check my credit score before applying for a payday loan?
If you want to apply for credit, such as an online payday loan, it's worthwhile checking your credit history with at least two of the leading credit reference agencies (TransUnion, Experian or Equifax) and finding out what your credit score is. That way you'll know what your chances are of getting approved for a loan. You'll also know if you should take any action to improve your score before you apply.
As we mentioned earlier, as well as this, you'll be able to check if there is any incorrect information on your credit report. It is rare that this happens, but sometimes it does, and having incorrect information on your file can unfairly damage your credit score. If you do find any incorrect information, you can have it corrected by contacting the credit reference agency in question or the organisation that has reported incorrect information to them.
Credit reference agencies summarised
Credit reference agencies have to be licensed and regulated by the FCA to operate in the UK. As well as this, although some argue that the rules related to data sharing that CRAs have to follow aren't very strict, the information they hold is subject to the Data Protection Act and can't just be accessed by anyone.
Next time you apply for an online loan in the UK, remember that behind the scenes the lender will probably be making data requests from one of the three main credit reference agencies to decide whether to lend to you or not. Whether you agree or not, lenders would not be able to lend to complete strangers responsibly and efficiently without the essential service of credit reference agencies.