Story highlights
Thieves can steal your card details when your card is in your pocket using a special machine
Always check ATM machines for fake card slots that are placed on machines
Card cloning machines are quite easily accessible to those who are up to no good
How safe are your card details? You might think that you're doing everything right and that there is no way you could become a victim of fraud, but that's probably not true. There are more threats out there than ever before, and you need to be aware of what tactics the criminals are using so that your card safety is a top priority. When you're better informed, you can be sure that the criminals are not one step ahead of you. Cashfloat, one of the new payday loan lenders on the market, provide the top tips for keeping your card safety at an all time high. This is essential for anyone in possession of a credit or debit card, so don't ignore the threat.
Every year, more and more people are falling victim to card fraudsters. You don't want to be another statistic, so don't let it happen. Below, you will find valuable information on how thieves manage to steal your card and financial details. And you'll also find out all you need to know about beating the criminals and preventing yourself becoming a victim. So, read on now to start protecting yourself against thieves.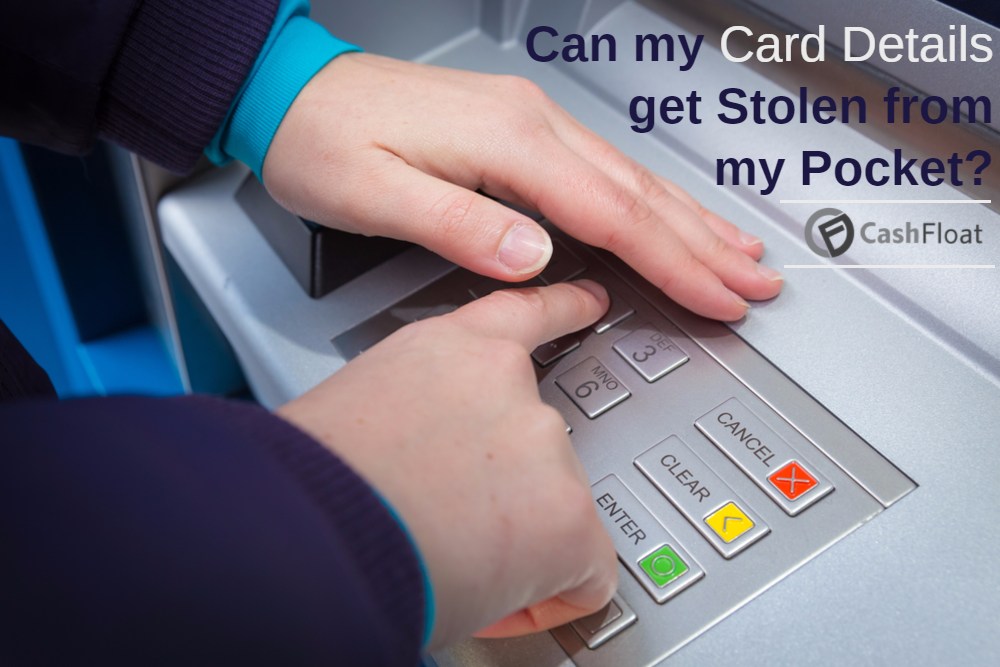 How Do Criminals Steal your Card Details?
There are three main ways in which thieves can gain access to your card or the information relating to it. It's important to be aware of these methods if you are going to prevent them taking place.
Stealing Your Card
The traditional method of stealing your card from you is as popular as ever among thieves. As soon as they have your card, they can start using it, even if they don't know your PIN. That's because buying products online doesn't require a PIN for a card to be used. So, as soon as the card is in their possession, it will be used to buy things with your money. This is one of the worrying developments of internet shopping.
There are many ways in which your money can be stolen. Pickpockets have very smart ways of taking people's wallets and cards without them even noticing. The best thing to do is not leave your wallet or card vulnerable. Rather than just putting it in your pocket, keep it in a bag that is firmly closed. That way, it will be much harder for criminals to swipe things from you.
Cloning and Reading Details
There are machines that can be used to clone your card. The details have to be found first, but this doesn't necessarily mean that your card gets stolen. When you hand over your card to a shop assistant or let someone else see it, they can remember the details. If they know the number and other information on the card, this is dangerous. Even if they just remember the details, they will be able to use the card online.
In the event of a criminal going to the lengths of cloning your card, they can do even more damage. For many people, this is worse than having their card stolen. That's because it takes them much longer to realise that they have been made a victim of fraud. It might be weeks or months until they realise what's happened because their card is still in their wallet.
Online Methods
If your card information is stored somewhere, then it could be at risk. This is why you shouldn't keep your card details stored on a computer, tablet or phone. If one of those items were to be stolen, then it wouldn't be long before your card started to be used by criminals as well. You should also avoid giving out any information to strangers. Online scammers will often ask you to send card information to them via email, but don't ever fall for this.
It's not always the fault of the cardholder when information is accessed or leaked. These days, companies that store card details of customers can also a site into. This is why companies are often targets for hackers. They want to access the financial information that could be useful to them. There is not much you can do about this other than making sure that you are careful about who you trust your details with.
What Can You Do To Beat Card Stealing Criminals?
Knowing what the thieves will do to steal from you is one thing, but the next step is to stop them. Here are some things you need to do in order to beat the criminals.
Card Safety and Protecting your Information
This might sound obvious, and it is. But people not protecting their cards and financial information properly is the primary cause of fraud today. You should never provide your PIN or other sensitive information to anyone who asks for it. Your bank would never ask you to do this, so if someone says they're calling from your bank asking for this information, they're lying.
It's vital to shred any paper documents that contain your details. So, when you get a bank statement in the post, you should destroy it as soon as you no longer need it. Simply throwing it in the bin is risky because anyone can go through your bins looking for details and information. When you get a new card, cut up the old one and sign the back of the new one immediately.
Be Careful When Carrying Out Contactless Transactions
Thanks to contactless transaction methods, paying for the things we buy has never been easier. At the same time, things have never been more dangerous for cardholders. There have been cases of cards being used by machines without them even leaving the person's pocket. All they have to do is get close enough to your card and then swipe a special machine near it to covertly transfer your money to them.
You should be aware of what's going on around you and don't leave your card too exposed to avoid this. Contactless payments can also be exploited by unscrupulous staff when you are trying to pay for something. You should never let the card out of your sight when you are paying something using a contactless method. It should be you who handles the card when paying this way.
Don't Be Predictable
If you use obvious numbers when choosing your PIN, you will expose yourself to unnecessary risk. Pick a strong number that you think no one will be able to guess. If you choose your birthday or your close relative's birthday, then people can get that information, and then make a guess at your PIN. You don't want that guess to be successful, so don't opt for weak numbers.
The same applies to any of the passwords that you use for your online shopping accounts. Most accounts require you to insert your information, and then they store it. So, if someone else can log onto your online shopping accounts, they would be able to use your information to their advantage. That would be a disaster for you, so keep your passwords strong and varied.
Be More Careful Online
How you use your cards online will have an impact on how safe they are from fraudsters and thieves. The first thing to do is put strong antivirus software in place. And you should aim to keep your firewall up to date and functional too. When you buy anything from an online store, be sure to log out of your account after you have completed the purchase. If you don't, someone else could gain access to your account and use your details.
Only enter your card details on websites that you are sure are safe. If you put your card details into a website that is not secure, you could be at risk. There should be a lock logo present next to the URL if the website is secure and can be trusted. And you should also look for SSL certificates when buying from a website. If they don't have them, it might be best to go elsewhere.
Don't Put Your Card in an ATM if Things Don't Look Right
Criminals sometimes use card capturing devices to steal your card. These are small devices that are inserted into the card slot of an ATM. They can then keep hold of your pin because the machine won't return it once it has been inserted. Criminals can even install a small camera to find out what your PIN is. This is one of the biggest risks when using an ATM.
You should always check for this kind of thing before you put your card into the ATM. Once it's in there, you won't be able to get it back easily. It's possible to tell when something has been pushed into the existing slot because it won't look like an ordinary ATM would look. So, check for the signs and always get help and alert someone if you're suspicious of anything. It's better to be safe than sorry.
Now that you have all the information that you need, you really need to be sure to use it in your everyday life. That's where the threats to your card safety will present themselves. So, you need to be ready to battle those threats.