A Guide to Credit Cards in the UK
– Chapter 8
What are charge cards? In this chapter we will explain how charge cards work and who might find them useful. After that we'll talk about what American Express and Diners Club International have to offer in the way of charge cards.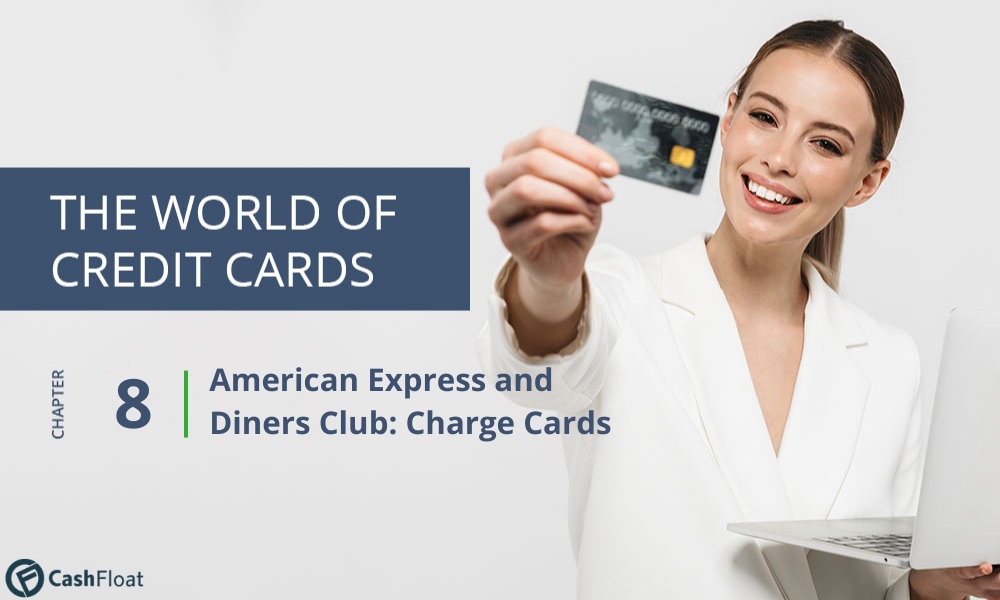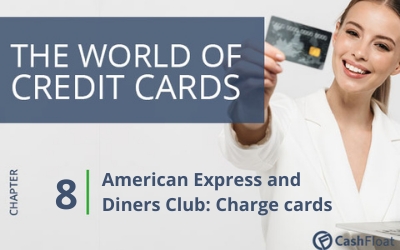 Article highlights
Find out how charge cards work
Charge cards offer limited benefits in terms of borrowing, but are good for rewards
Find out what you could get with an Amex card
So, you want access to credit, but you've heard that as well as credit cards there are different cards, called charge cards. How do you decide which is best for you?
Charge cards and credit cards have some key differences, which we'll explain below. For most people, credit cards turn out to be the best choice, but it's a good idea to be informed on the differences, so that you can make sure you are making the right choice.
What are Charge Cards?
As we explained in Chapter 1 of this guide, Charge cards have been around for many years and were the forerunners to the modern day credit card. The oldest charge card is the Diners Club card, which started at the Major's Cabin Grill restaurant in New York, when a businessman was having dinner and forgot his wallet. His wife had to pay and, in pondering situations in which people might not be able to pay for their dinner, he came up with the idea of the charge card. In 1950, this man found a business partner and launched his payment system. Within two years of it being released, there were 42,000 members of the scheme and they could use their cards at 27 different restaurants. The Diners Club card is still around today and we'll talk about their latest offers later in this chapter.
For in-depth information about how credit cards work, in comparison, go to Chapter 6 of this guide.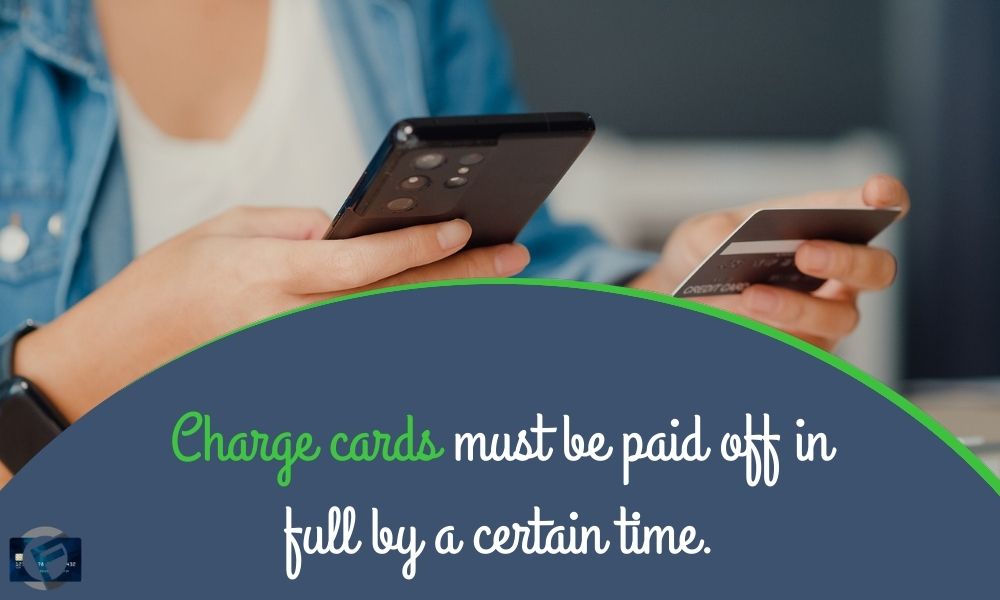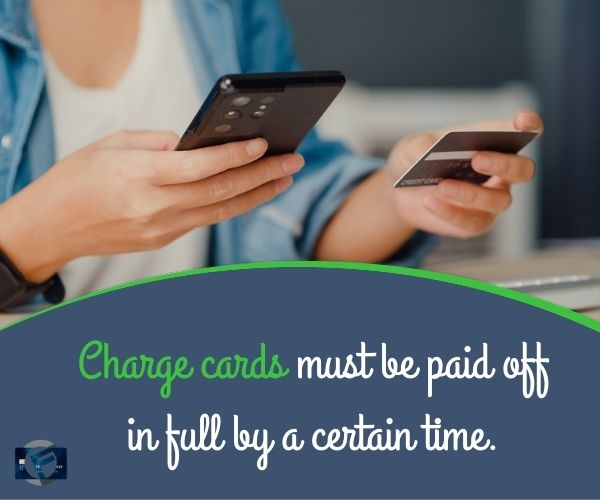 How are Charge Cards Different to Credit Cards?
Unlike a credit card, you must pay off a charge card, in full, at a certain time. Usually this is each month. These cards allow you access to credit, but under the agreement that you completely pay off your bill at set intervals. Instead of paying interest on money that you borrow, you pay a membership fee to be part of a charge card scheme. If you fail to pay off your balance when you need to, then you will be hit with late payment fees and interest will be applied to the money that you owe. On top of that, late payments can harm your credit rating.
Generally, charge cards are only available to people who have a good or excellent credit history. They are generally regarded as a luxury item. Some charge high annual fees and come with unlimited credit and attractive rewards. The high credit limits and rewards are what make them attractive to people and ownership of a charge card is more like gaining membership to a club than just having credit available. In order to be able to finance a charge card, generally, people need to have a high income.
Why Get a Charge Card?
There is no reason to get a charge card to avoid the interest rates of credit cards, because if you pay a credit card off each month you avoid interest anyway. As we said, the high (or unlimited) credit limits and rewards are generally what attract people to charge cards.
Benefits that come with charge cards include travel insurance, golf club membership, airport lounge access, restaurant offers, cashback, retail scheme points and concierge services. The buying power of the card providers gives owners of the cards access to more than they would otherwise be able to get if they paid for the same things themselves. The high or unlimited credit limits are also an attraction to people. While people will need the funds to return the money readily available, being able to put a large payment on one card is often more convenient and they can be used to avoid the need to make complicated transactions at short notice.
Normally, you should only consider getting a charge card if you have a good or excellent credit rating and a relatively high income. These are more of a luxury item and the strict repayment conditions make them less suited to borrowing for most people.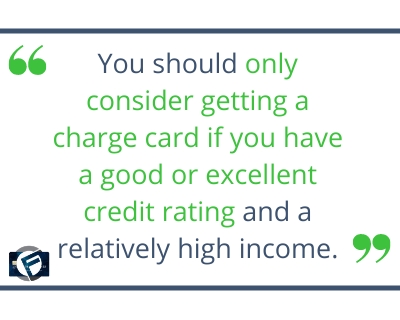 What Charge Cards are Available in the UK?
American Express (Amex) are the biggest provider of charge cards, for the general public, in the UK. Some banks, such as Allied Irish Bank offer them to the general public as well and other banks, such as Barclays, often offer them for business use.
As Diners Club International were the first to introduce charge cards and have experienced a recent resurgence, we decided to explain what their current charge card offers are first. After you have seen what Diners Club cards are available. Have a look at what Amex, the biggest UK provider, have on offer nowadays.
Diners Club Cards
Diners Club charge cards are accepted in over 200 countries by over 35 million merchants, and they have members from 59 different countries. These cards have traditionally been used in the US, where there is a high level of acceptance and by individuals and businesses which operate internationally. Previously there were limited places they could be used in the UK and Diners Club do not currently have a direct application route for residents of the UK. However, in 2019 Barclaycard announced that 110,000 businesses which use Barclaycard as their payment processor would be able to accept Diners Club cards as payment. This has paved the way for more widespread use of Diners Club cards within the UK and they may soon become more widely available.
Diners Club International now also offer credit cards, for which there is no annual fee, and which work the same as other credit cards that you may be familiar with. Despite their success in the 1950s (and 1960's, when they featured in the film 'Breakfast at Tiffany's'), Diners Club International fell behind their competitors for many years.
Nowadays, Diners Club have two basic versions of their charge card which offer different benefits:
Diners Club Premier Card
---
For an annual fee of $95, the Diners Club Premier card offers owners personal assistance services, such as making reservations for golf or a spa, airport lounge access, car rental discounts and access to a points scheme with it being possible to use points in hundreds of ways.
The premier card offers relatively few restaurant benefits, which is quite ironic when you consider how the card was founded! However, the points which come with the cards can be used in a number of ways and some people make great use of what is on offer.
Diners Club Elite Card
---
The elite card costs an annual fee of 300 dollars and comes with the same rewards as the premier card, except that owners receive three times as many points as premier card members when they make purchases.
Both the premier and elite cards have a chip and PIN, which has increased uptake by travellers from America, who intend to use their cards in Europe where chip and PIN is the standard method of payment.
American Express
The next charge card provider we will look at is American Express. Amex cards have a reputation for being THE cards to have if you want to impress and they are the main provider of charge cards in the UK. For many people in the UK, Amex are the only charge card provider that they have heard about.
The American Express company was founded in 1850 as a business which delivered mail. Formed by a merger between the founders of Wells Fargo, American Express enjoyed almost a total monopoly for moving shipments of goods around New York state. By 1903 it was one of the wealthiest corporations in the US, and in 1957, AMEX decided to challenge Diners Club International and take part in the lucrative charge card business.
The first Amex card charged a higher annual fee (of 6 dollars) than the Diners Club card and this gave its members more kudos, as they were paying more. By 1959 the card had morphed from a simple piece of paper to the plastic card that we all now know and American Express had become major charge card providers in the US.
The annual fee for the Platinum card is a hefty £575, but it comes with no pre-set credit limit and a huge number of rewards.
If you use an Amex platinum card to make £4000 worth of purchases within the first three months, you get 30,000 membership reward points. Points can be used in a huge number of ways, such as to do shopping or to book flights, hotels and car hire through the American Express travel agency. Amex even have a deal struck with Uber, which allows corporate card owners to travel or get Uber Eats meals for free or at a reduced rate. With a Platinum card, on top of rewards points, you get:
Free travel insurance
Access to over 1,200 airport lounges
Complimentary upgrades and late checkout at certain hotels
And many more offers…
Of course, all of these benefits do come through the annual fee. However, for people who are able to afford it it can be quite exciting and adds effortless extras to their lives on top of the ability to conveniently pay large sums of money at short notice.
The American Express 'Green' Card was introduced in 1969 and is the standard Amex charge card. Within three months of its first introduction, the card had 500,000 members. Nowadays there are tens of millions of members. This card costs an annual fee of £60 and comes with access to membership rewards points and some limited travel insurance. The more that owners spend with the card, the more reward points they get. The points can be used in the same way as points earned with a platinum card, with a huge number of possibilities for use. As with the platinum card, there is no pre-set spending limit.
The Basic Amex card doesn't have an annual fee and like the other cards there is no preset spending limit. The card can be used to make purchases and, rather than being able to earn membership points for spending, owners can have access to American Express Experiences. As experiences, owners of the card can get access to in-demand theatre, film and music events.
Is an American Express Charge Card Worth It?
Amex charge cards do not, generally, provide an advantage over credit cards in terms of borrowing power, except that they can sometimes be used to make larger purchases than you would be able to with a credit card. If you do take out an Amex charge card, you must be rigorous in paying off the full balance before you incur interest and fees. If you have the ability to finance a 'Green' or platinum card, they can be useful for large purchases and the rewards which come with them can be quite exciting.
Charge Cards vs. Payday Loans
People often turn to charge cards as a way to fund large purchases, which they intend to pay back at the end of the month. However, Cashfloat's short term loans offer more flexibility. With our short-term loans, you can take out a loan for up to four months, increasing the amount of time you have to pay the money back. On top of this, because we give you the money directly, you can use it for anything you want. Charge cards, on the other hand, are not universally accepted and so their use can be limited.
How Charge Cards Work – Summary
The important thing to remember with charge cards is that, although there are no interest fees this is of no benefit because you have to pay the money back before you would be charged interest on a credit card anyway. Charge cards are, essentially, luxury items that people who can afford to do so, use to conveniently fund large purchases and to take advantage of rewards schemes and the other offers that come with them.
In the next chapter we'll be looking at the Vanquis credit card. The Vanquis card is a 'credit builder' card and is a good option for people who have no credit history or are trying to repair a damaged one. Read on to find out more.