Is getting a debt consolidation loan the answer to your debt? In this article, Cashfloat explores the pros and cons of consolidating debt in different circumstances.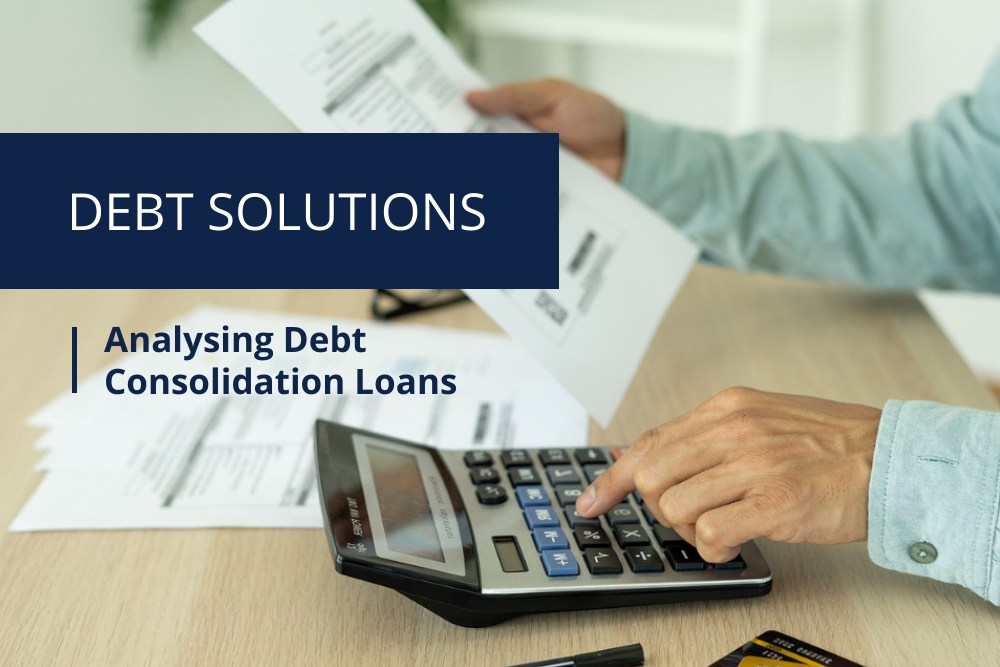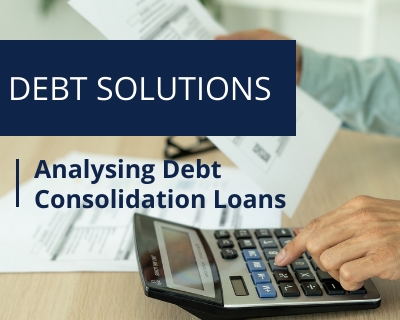 Cashfloat provide UK consumers with a flexible solution to short term money problems. We try hard to emphasize that our loans direct are expensive and that they should never be used as a long term financial resource. If you find yourself struggling with debt, there are many solutions to choose from. One of them is debt consolidation loans.
In this article, we will discover whether debt consolidation loans are an effective way to pay off debt.
Seek Debt Advice First
Before you consider applying for a debt consolidation loan it is very important to obtain impartial and professional advice. You can get this for free from charitable organisations like StepChange or Christians Against Poverty. Many people are unaware that free help is available.
Anyone who has substantial debts will benefit by discussing their situation with a debt advisor. There are many solutions to debt and it is important to choose the one that is right for you. Debt consolidation loans can be a big risk and so it is important to make sure you are making the right decision before you take one out.
What is a Debt Consolidation Loan?
One of the options that is sometimes offered to people who are in financial difficulty is a debt consolidation loan. So,what are they and are they a good way to ease a debt problem?
With a debt consolidation loan, you take out one large loan and use it to pay off several smaller loans. When you have several sources of debt, such as from short-term loans or credit cards, it can be difficult to meet all of the payments each month. Debt consolidation loans reduce the number of payments down to one and usually offer reduced monthly payments and reduced interest rates. While they are attractive for these reasons, they often end up costing more as it takes longer to repay them. Payments can also still be difficult to meet, even if they are reduced. Generally speaking, debt consolidation loans are a risky and, sometimes, expensive solution to debt. However, in some cases they can be appropriate.
Many people are tempted by the offer of having one creditor and having reduced monthly payments. It is important to remember, though, that debt consolidation loans may work out to be expensive and you may struggle to make repayments for them.

Credit Card Debt Consolidation
As well as it being possible to carry out debt consolidation with a loan, it is also possible to consolidate credit card debt by moving debts from several credit cards onto one credit card with a lower rate of interest. As with debt consolidation loans it is important to understand exactly how much it will cost before you decide to carry this out. There can be fees for transferring money and doing this can end up being more expensive than people realise.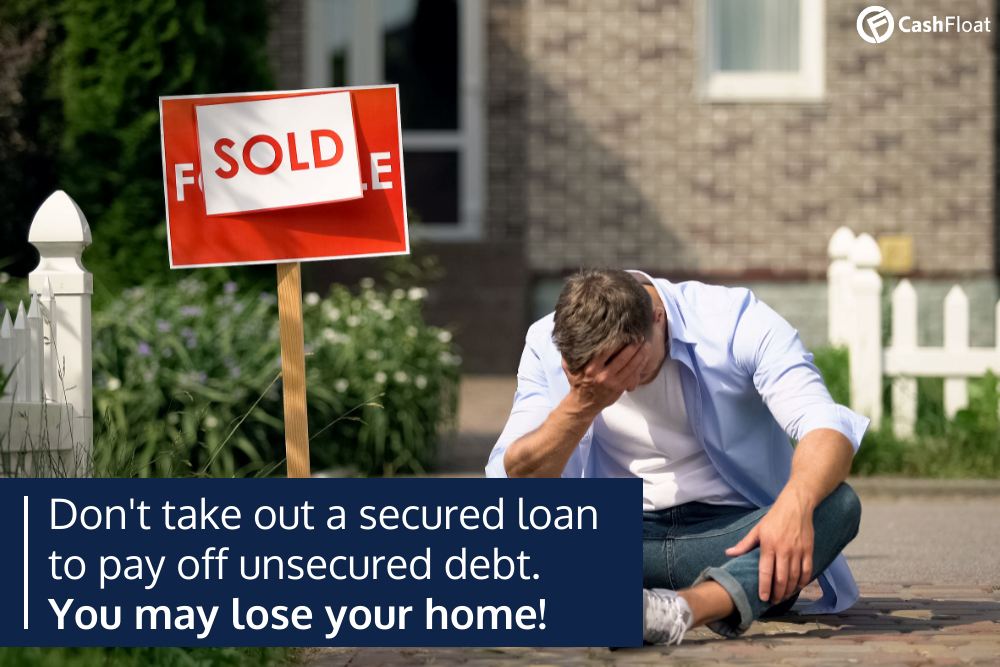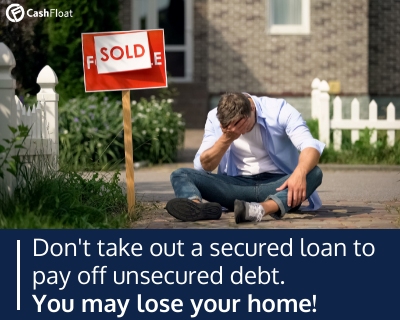 How Debt Consolidation Loans Work
As we explained already, the basic idea behind consolidating debt with a loan is quite simple. You take out a new loan and use it to pay off all of your existing debts. After that, you only have to make payments to one creditor, which is much less complicated. Additionally, many consolidation loans offer lower minimum monthly payments and lower rates of interest.
Debt consolidation loans can be used to pay off many types of debt, including credit cards, overdrafts or personal loans. Where previous debts may have meant complicated payments to several creditors, which were higher than a person could afford, a debt consolidation may be more affordable and a lot simpler. On top of this, if you manage to meet all of the payments for your debt consolidation loan you will not damage your credit rating. Which might have been the case if you were failing to make payments before.
Be Careful With a Debt Consolidation Loan
While they are attractive and for some people they do provide a good solution to debt problems, they are not without their risks. Beware of the following things:
While monthly payments and interest rates may be less, debt consolidation loans often end up costing more in total as they take longer to pay off.
On top of this, they do not always come with low interest rates and some come with expensive setup fees. Often, they turn out not to be affordable to people who take them out.
If you are considering taking one out, it is important that the payments you will need to make for it are actually affordable and not just lower than your current payments.
The biggest risk with these loans is when they are secured against an asset of yours, such as your home. If you fail to make payments for a secured loan, your loan provider will be able to take control of assets. This could mean that you lose your home. It is strongly advised that you do not take out a secured loan to pay back unsecured debts.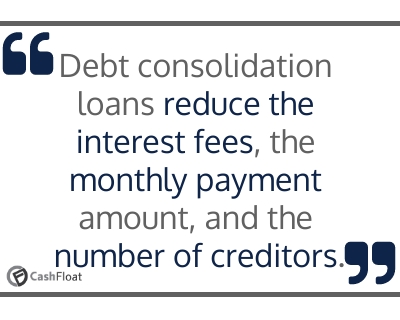 Unsecured And Secured Debt Consolidation Loans
Debt Consolidation loans can either come as secured loans or unsecured loans and it is important to know the difference. Secured loans are loans which are secured against an asset of yours. For example, if you secure a loan against your home your loan provider will be able to take your home if you fail to keep up payments. Unsecured loans are not secured against your assets.
Using a debt consolidation loan that you secure on your home to pay off unsecured debts, like credit cards, is always a bad choice. Defaulting on an unsecured loan will, most likely, result in you having a bad credit rating and finding it difficult to secure credit in the future. However, your creditors will not have the right to take control of your assets, like your home. If you take out a loan that you secure against your home, you could be in danger of losing it if you fail to keep up repayments.
Are Debt Consolidation Loans a Good Solution to Debt?
Often, taking out another loan online to pay off existing borrowing is not a good solution to a debt problem. Particularly where someone has a serious issue with debt, and large amounts of money are owed and payments are difficult to make. This course of action will usually increase the total amount that you owe and mean that your outstanding debt will carry on for a longer period of time. On top of that, the payments for a debt consolidation loan may be impossible to make, meaning that the person will default on their new loan. Defaulting on a debt consolidation loan could be worse than defaulting on the original debt. In these circumstances, it is often more advisable to follow another course of action, such as a debt management plan.
In some circumstances a new loan can be a solution. However, this only applies where the loan recipient is able to meet the conditions of the new loan and where the extra costs associated with it outweigh the drawbacks of taking one out. Cashfloat don't provide debt consolidation loans, and we don't advise you to take a payday loan for bad credit to consolidate your debt either.
It is important to seek impartial and professional financial advice before taking out a loan to consolidate debt. You can get this for free from a charitable organisation, such as StepChange, Christians Against Poverty or the National Debtline.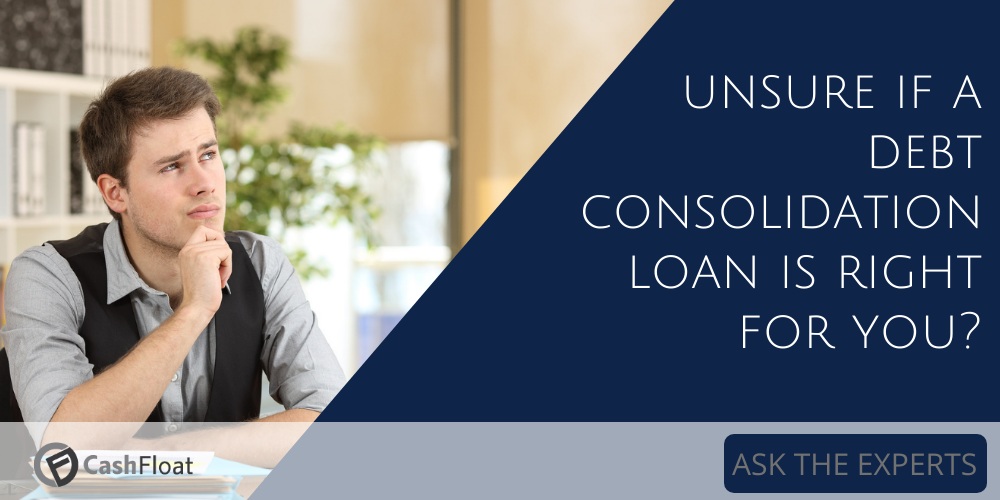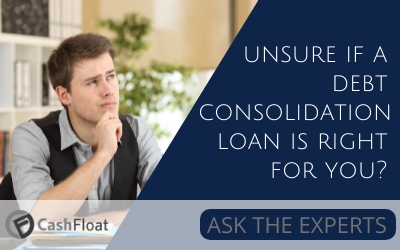 Debt Consolidation Loans if You Have a Bad Credit Rating
Consolidating debt tends to be most expensive and risky for people who have a poor credit rating. As with all loans, the poorer your credit rating, the higher a rate of interest you are likely to be offered. This could make a debt far more expensive in the long run. On top of this, many loan providers will require borrowers with a poor credit rating to secure the loan against an asset of theirs, such as their home.
Whilst the temptation to take out a debt consolidation loan may be strong, it is always important to be realistic about the cost and to also consider the risk if it is secured against an asset of yours. This is particularly the case for people who have a poor credit rating, who will usually face the highest cost and biggest risk.
Beware of Misleading Companies
In the past, there have been many instances where debt management companies have advertised 'government debt consolidation'. These profit making businesses misled people into believing that they were endorsed by the government and were providing debt solutions promoted by them. Sometimes, they even misled people into believing that their services were free, when they weren't. In fact, they were just charging a fee to provide debt solutions, which are available for free from charities and other financial institutions.
Thankfully, the Office of Fair Trading and the Financial Conduct Authority have now taken action against companies who follow this practice and have reduced this kind of advertising. However, unfortunately, it does still exist. This is even more reason to make sure that you seek free professional debt advice before you embark on any debt solution. As we've said a few times already, this can be obtained for free from charitable organisations.