Are you stuck for cash again and not sure what the cheapest option for borrowing is – loan or overdraft? Cashfloat explores your best option for borrowing money in an emergency…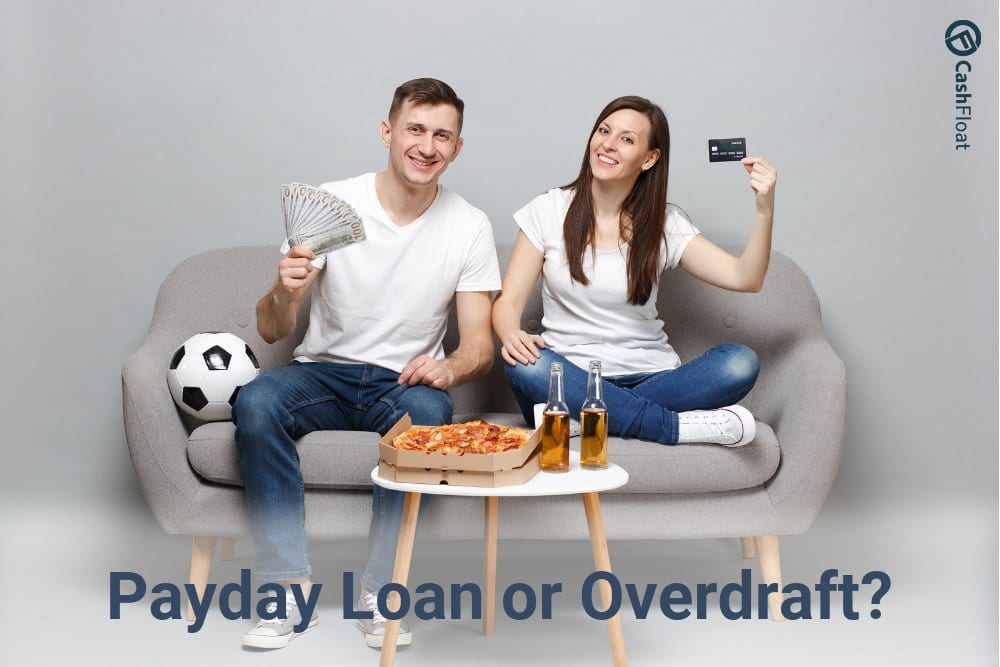 Story highlights
At TSB, HSBC and Lloyds, they can charge you up to £80 a month for being in your overdraft.
There have been proposals to cap unauthorised overdrafts because they can cost customers a fortune.
There are many times in life when you may struggle for money. You've had to spend a lot of money in a few weeks, and your bank balance is seriously low. For most people, a convenient solution is to get an overdraft. You contact your bank and ask to get an overdraft so you have access to additional funds. If they approve this, then you'll have to pay a daily fee until you're out of the overdraft. On the other hand, payday loans from a direct lender in the UK provide a quick short term solution too. Overdraft vs Payday Loans – Which will it be?
Loans or Overdrafts – The Cheapest Solution
There are lots of people in the red that think that an overdraft is the best solution out there. However, some new research by Which? has proved otherwise. During their research which compared an unplanned overdraft vs payday loans, Which? found that it was cheaper to take out a payday loan rather than an unplanned overdraft. This news came as a surprise to many people all of the UK. For years, payday loans have been scrutinised and given a bad name. Everyone has been warned off them and told to go to their bank for help instead. But, this new research has shown that unplanned overdraft fees can be four times more expensive than payday loans!
This news was shocking because it's known that payday lenders can charge very high-interest rates. Some charge as much as 1,509% APR, and yet, they're now cheaper than overdrafts. How is this possible? How can an instant loan be cheaper than getting an overdraft? All it takes is a quick look at some of the fees banks are charging their customers.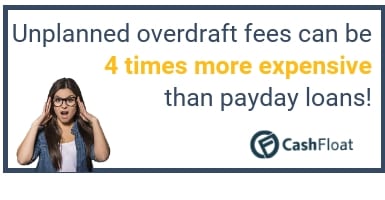 Overdraft Vs Payday Loans Fees
If you bank with NatWest and RBS, then you're charged a fee of £6 per day, for going into overdraft. It's important to note that this is for unplanned overdrafts, not ones that are already agreed upon beforehand. This fee is for people that go into an unplanned overdraft by more than £10. At TSB, HSBC and Lloyds, they can charge you up to £80 a month for being in your overdraft. Over at Halifax, there's a £5 per day fee, with a max charge of £100.
All of these figures can seem a bit confusing, and it looks like a lot of money is being charged to customers. And, things are made even worse when you compare how much it costs to borrow £100. There are new FCA rules in place that put a cap on how much a payday lender can charge per day. The most they can now charge is 0.8% each day. This equates to £122.40 for borrowing £100 over 28 days.
Bank Overdraft Fees

Natwest overdraft
£6 per day
Barclays overdraft
£8 per day
Halifax overdraft
£5 per day
HSBC overdraft
£5 per day
Lloyds overdraft
£5 per day
TSB overdraft
£5 per day
The Facts about Overdrafts
The following charges are for borrowing £100 for 28 days when you borrow from a bank via an overdraft. These figures are straight from the Which? research. Barclays are the cheapest out there, with £100 costing you £30 – which is still more expensive. Then, the rest of the banks are way out in front. Borrowing from Santander can cost you a touch under £70. TSB, HSBC and Lloyds will all charge you £80 for borrowing £100. Moving further up the scale, RBS charge a maximum of £90. Finally, you have Halifax, who charge £100 for unplanned overdraft fees.
Overdraft or Payday Loans – Which One?
So, you can see that overdrafts are far more costly than payday loans. If you bank with Halifax, then it can cost you nearly £80 more! It may seem like an easy and convenient way of getting money, but unplanned overdrafts are very expensive. What's more, it's very rare that you're told of these charges when you open a bank account. If you agree to have an overdraft, then you will know all the fees. And, yes, a planned overdraft is far cheaper than both methods. But, a lot of regular current accounts don't come with them. So, you only find out about these fees when you need an unplanned overdraft. People that need one are often in a financial emergency where they're desperate for money. In such a situation, it may be cheaper for them to borrow the entire amount they need (£500, £1000, or more, depending on the circumstance) rather than getting charged ridiculous bank fees. It's not fair, and something needs to be done about it.
Payday loans have become more affordable thanks to the FCA ruling. It's been in place since January 2015, and you can see that it works. By capping interest rates, payday loans and short term loans online are now a much more viable option for people in need of emergency cash. These loans can also get repaid in manageable monthly instalments.
Will Overdrafts Change?
The CMA proposes that banks should cap unarranged overdraft fees. It's thought that doing this can save customers £1 billion over five years. This cap would be very beneficial for lots of customers out there. Just look at some of the figures that were pointed out earlier. You have HSBC that charge around £30 max, and then RBS and Halifax that charge £100 max. There's such a huge difference in scale; it's not fair for everyone. The CMA also thinks that banks should alert customers before they go into their overdraft. Customers should get automatically signed up for text alerts to tell them when their balance is low. This helps them realise things are getting dangerous, and they can put a cap on their spending. They will be releasing a full report on their new proposal in August. Hopefully, this should give us more information on figures for the proposed cap, etc.
At the moment, banks don't alert customers and charge ridiculous fees. They punish loyal customers when there's no need for it to happen. Banks made over a billion pounds in 2014 from unplanned overdraft fees; that's astounding! Hopefully, more and more people are now aware that it's a bad option for them. So, they can save money and get a payday loan instead. Until banks put a cap on their fees, there will be the payday loan vs overdraft decision for people considering emergency cash advances. It's ironic how people look at payday lenders as the bad guys in the financial industry. Banks would often tell customers not to get a quick loan for bad credit if they were in trouble. Now, the tables have turned, and banks are seen as the bad guys!