Different Professions & Payday Loans
– Chapter 15
Story highlights
Cashfloat provides many payday loans for telecoms engineers each month
The standard working hours for a telecoms engineer are 40-45 hours per week from Monday-Friday
Only ten percent of engineers are women, even though there are skills shortages
During an initiative to help and understand our customers more, Cashfloat examined which professions most need our services. During the study, we noticed that we provide many instant cash payday loans for telecoms engineers each month. To try to and understand why, this report will consider the position of telecoms engineers: the history of their profession, their training, qualifications, salaries, perks and the future of their profession.
Telecoms engineers work on all types of satellite/ digital TV networks as well as installing and maintaining broadband, mobile, and landline phone networks. The statistics from Ofcom (the independent regulatory authority for the UK's communications industry) illustrate the importance of this profession; 81% of adults have broadband access, there are 33.2 million fixed landlines in the UK while 95% of homes have a working television. Regarding revenue, the communications sector in the UK is the second largest in Europe. Also, telecoms engineers should be receiving financial benefits to reflect the growing demand for their expertise. If so, why are so many applying with direct lenders in the UK providing payday loans for telecoms engineers?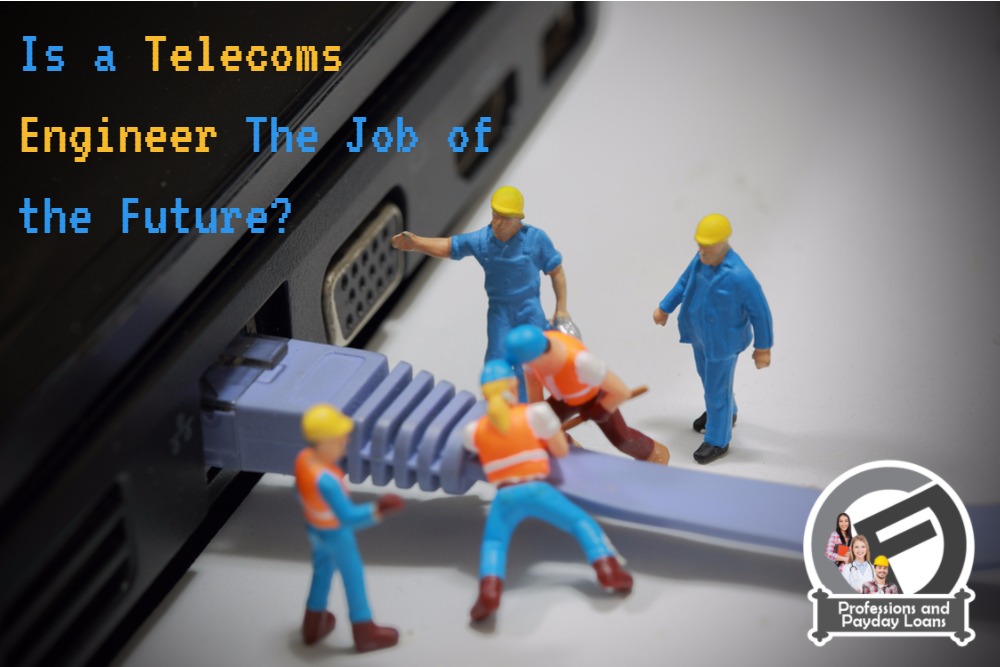 The History of Telecommunications
The NTC (National Telephone Company) was created in 1881 and existed until 1912 when it was taken over by the GPO (General Post Office) under the Telephone Transfer Act of 1911. Until 1982, the telecommunications system was a state monopoly and, as British Telecom, was privatised two years later. British Rail created the largest telecommunications network; 17,000 kilometres of fibre optic and copper cable, which connect the whole country and even connect the UK with Europe. British Telecom remains the main provider of landlines with a market share of 37% while Virgin Media are in second place with 13%. Telecommunications is a large industry employing an estimated 270,000 people in 8,000 companies.
How To Become a Telecoms Engineer
There are some routes into the field of telecommunications and entrants to the profession can start as young as school leavers at the age of 16. The only prerequisites are proof of basic literacy and numeracy, and as applicants will be working with electricity, they should have normal colour vision. It is a profession that also requires a level of general fitness as it involves climbing heights as well as going underground to install and/or repair faults. The most common way that people enter the profession is through an apprenticeship.
Apprenticeships for Telecom Engineers
Many of the telecommunications companies offer apprenticeships, and this is possibly the easiest way into the profession as the trainee can earn a salary while working. Trainees work alongside experienced colleagues to gain job-specific skills while their attendance at a course is organised on a day release basis (one day a week at college) or a block release basis (one week per month for courses). They work towards a nationally-recognised qualification and their period of training can last anything from 2 to 4 years.
Qualifications for Telecoms Engineers
Qualifications in Telecommunications are offered by some vocationally-orientated examination boards, and these include City & Guilds, Edexcel, and Pearson BTEC. Qualifications at Intermediate (Level 2) are the equivalent of GCSEs and are ideal as a general introduction to the subject. For registration with certain institutes, Level 3 is required and is considered to be the equivalent of A levels. For anyone who wishes to progress up the career ladder, Level 4 is possible and is the same as a foundation degree.
All fees for the training provider are paid by the employer when someone is an apprentice, so they finish their training without any student loans, unlike students on academic courses.
Future Careers for Telecoms Engineers
With the necessary training, experience, and preferably a Level 4 qualification, telecom engineers can go into supervisory positions, network design or specialise further and become an electrical or electronic engineer.
Salaries for Telecom Engineers
How much do Telecoms Engineers Earn?
Apprentices would begin on a basic wage of around £10,000-£12,000 per year, and this amount would go up as they progressed through their apprenticeship. A starting salary for a telecoms engineer with a Level 3 qualification is £16,000, but this would rise as they gain in experience to a maximum of around £30,000. This does not include the extra payment for shift work or overtime, which is paid at different rates. Some companies might also offer OTB ( On Target Bonuses).
What are the Working Hours of a Telecoms Engineer?
The standard working hours for a telecoms engineer are 40-45 hours per week from Monday-Friday. Sometimes engineers are expected to be 'on call' for emergencies and in this case, would work irregular hours although this coverage is often done on a roster system.
What is Annual Leave and Sick Pay for Telecoms Engineers?
The average annual leave for telecoms engineers is 22 days a year plus eight public holidays. Different telecommunications companies might offer different sick pay schemes with supplementary industrial pay. Using BT as an example, it offers its engineers six months of full pay followed by six months of half pay as long as they qualify according to length of service.
Which Pensions are there for Telecoms Engineers?
The new pension rules mean that every company should provide their employees with a private
pension scheme
; this auto-enrolment affects everyone between the ages of 22-65 who earns more than £10,000 a year. BT is typical of the big telecommunications companies in that it offers a scale of pension payments, which it supplements. The minimum is 5% of the employees' pensionable salary every month, to which they will add a further 8%. For employees who choose to pay 7% or more, BT's contribution adds a further 9%. Such pension payments also mean tax benefits from the Government.
What is the The CSCS Card for Telecoms Engineers?
Like construction workers, any telecoms engineer who wishes to work on building sites should apply for a CSCS (
Construction Skills Certification Card
), which testifies that they are competent to work in new building and have received the necessary training and vocational qualifications. Proof of their qualifications might be demanded, and the registration fee is nearly £50; part of the money pays for the CITB Health, Safety and Environment test. This test depends on the profession, but for telecoms engineers, it would prove they can work at heights and know how to use a safety harness and tool belt.
Which Unions are there for Telecoms Engineers?
There are two main unions for telecoms engineers; the first is the CWU (Communications Workers Union) which was formed in 1995. With over 200,000 members the CWU is the largest union for the communications industry. Its main aim is to protect and promote workers in the workplace.
The second union is Prospect, which is a union of engineers and scientists. Founded in 2001, Prospect has 120,000 members, of which 16,000 work in IT and Telecommunications.
Are there Engineering Organisations for Telecoms Engineers?
There are 35 different professional engineering institutes, but telecoms engineers would belong to the IET (
Institute of Engineering and Technology
). This organisation works in an advisory capacity for national issues regarding the field of engineering and is also committed to CPD (Continuing Professional Development) by offering distance-learning programmes, structured activities like courses as well as opportunities for private study and mentoring.
Once telecoms engineers have been accepted by the IET, they are entitled to join the IET (Institute of Engineering and Technology), which sets and maintains recognised standards of professional competence and ethics as well as working in an advisory capacity to the national government. With a combined membership of 160,000, the IET offers £200,000 worth of scholarships, prizes, and grants every year as well as setting up schemes to encourage more young people to choose engineering as a career.
A Shortage of Skilled Engineers
Although the UK produces 46,000 engineering graduates every year and applications to study engineering at university have increased by 7% over the past few years, it is said that the UK is facing an imminent shortage of skilled engineers. In the IET's 2014 Annual Skills Study, 40% of employers interviewed said they had trouble recruiting while over 50% stated that they were planning to employ more apprentices in technical roles. In 2015, it was estimated by the Royal Academy of Engineering that the UK would need over 1 million new engineers and technicians by the year 2020.
Part of the reason given for this shortage is that 50% of its workforce are due to be retiring soon and the other reason is that school children are not encouraged to do apprenticeships or study engineering. The education system did not do enough to promote STEM subjects (Science, Technology, Engineering, and Maths) while teachers pushed students into studying academic subjects at university which have fewer career prospects. Finally, in the IET's Engineer A Better World Study, it was concluded that engineering has a reputation for being 'dirty' and there is an unconscious bias to steer girls away from engineering as a career. This probably helps to explain why only 10% of engineers are women despite the skills shortage.
Solving the Engineering Skills Shortage
There have been some state and privately-funded initiatives to encourage the young into engineering. Some include the IET's Faraday Project, which is an outreach project to schools. A similar campaign has been the Tomorrow's Engineers Programme, which gives school children between the ages of 11-14 first-hand engineering experience with local firms. Finally, some campaigns like the Your Life Campaign specifically target young girls while June 2015 saw the first National Women in Engineering Day to attract girls to study engineering by presenting female engineers as role models.
Self-employed Telecoms Engineers
The growing demand for telecoms engineers means it is relatively easy for them to become self-employed once they have the necessary training and experience. Unlike car mechanics, they would not need to rent commercial premises or lease equipment so they could start a business comparatively cheaply. They would probably need a vehicle to enable them to travel to the customers, where they would be working but they would probably possess most of their tools from their training.
Like any new start-up business, the first year is when they would probably struggle the most since they would have to advertise for customers until they had built up a good enough reputation to get referrals by word of mouth. The main hurdle with being self-employed is that there is not always a guaranteed regular income every month, which is when some small firms get into financial difficulties.
Payday Loans for Telecoms Engineers
Cashfloat has noticed a trend in applications for payday loans for telecoms engineers through its online website. The question is; Why? An experienced telecoms engineer on a salary of £30,000 basic pay (before overtime and any shift allowances) would probably not require the services of a lender that offers payday loans for telecoms engineers. Instead, apprentices and newly-qualified engineers on the lower end of the pay scale might find that their money is insufficient for them to survive. Like other people, they face difficulties because their salary can barely be stretched to cover all their monthly expenses. These would include their accommodation, grocery shopping as well as their transport costs. Other charges could be clothing, their pension, entertainment and the tools of their trade. It is no wonder, then, that they will sometimes use payday loans for telecoms engineers to get them through the month.

The self-employed might also need the help of lenders offering payday loans for telecoms engineers in the initial years of their business until they have a regular customer base. A payday loan might also be used to tide them over if they have a cash flow problem because business has temporarily slackened off or late payments.
Conclusion
The statistics at the beginning of this report illustrate the importance and sheer size of the telecommunications industry and how important it promises to be in the future. Telecoms engineers are guaranteed a steady income and job security. Young apprentices and the self-employed might need the helping hand of a company that lends payday loans for telecoms engineers on occasions, but once they move up the career ladder or increase their custom, their earnings will be adequate for them to get by. Cashfloat is happy to provide payday loans for telecoms engineers experiencing a short term money problem.
Sarah is an enthusiastic writer, blogger and an eager agent of change. Although she has never been one to voice her opinion publicly, Sarah has dedicated herself to helping Cashfloat spread awareness about common financial issues and the importance of money management. Through her writing, Sarah hopes to empower a positive and lasting change in people. Sarah believes strongly in ethical business management and consumer protection. After completing her degree in Computer Science in one of London's esteemed universities, Sarah has come to adore the buzzing hub of London city. Still, in her free time, Sarah enjoys reading, researching, watching movies and eating out. After all, #YOLO!