Thinking of starting a new job? Or just curious or about what actually takes out payday loans? Truthfully, we were also, so we put toghether this fascinating guide about which professions need online loans. You are sure to find some facts that will shock you.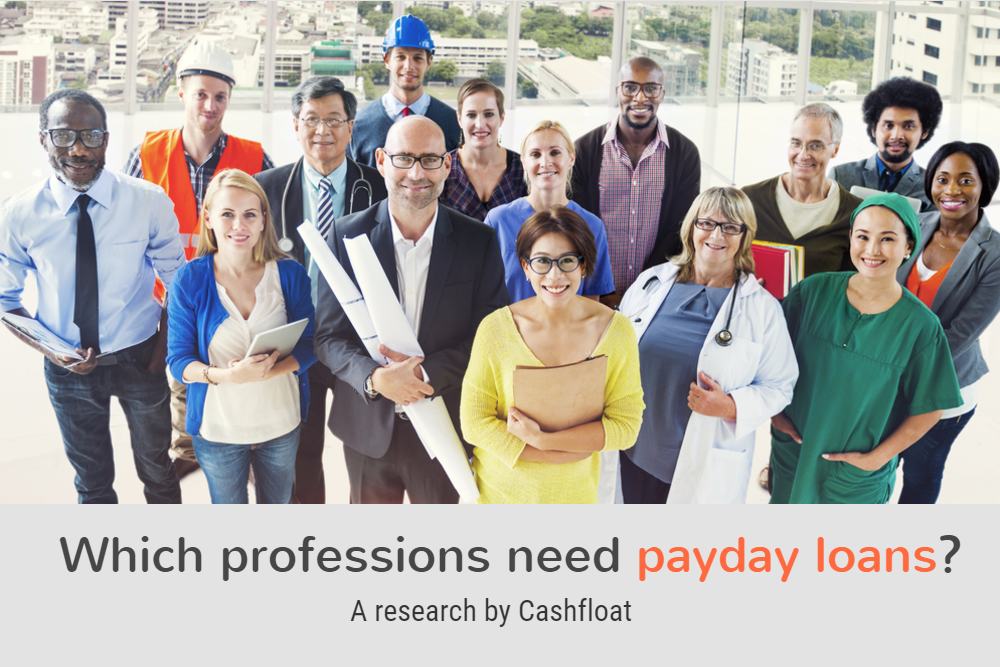 Story highlights
In 2012, the OFT stated that most payday loans are taken by be young males who are renting and earning more than £1,000
Cashfloat payday loans are mostly taken by single males aged between 26 and 40 years old
Who Takes Out Payday Loans?
The original report by the OFT (Office of Fair Trading) in 2012 stated that those who apply for payday loans were more likely to be young males earning more than £1,000 per month living in rented accommodation. Many were unmarried and without children and they were not normally unemployed but possessed a bank account. Like any generalisation, how true was this at the time and then how true is it today?
Cashfloat is a responsibleUK payday loans direct lender. The more people we help people with our loans, the more aware we become of the people that need our help. We wrote this informational guide to try and establish why certain professions need payday loans more than others.
Do Some Professions Need Payday Loans?
Table Of Contents
Choose an article, and enjoy!
Which Professions Need Payday Loans the Most?
Looking at the report from the Office of Fair Trading, it's easy to think that there is a certain class of people who take out payday loans. Only people earning in a certain wage bracket, say, or at a certain stage of their lives, rely on payday loans. But what is the truth?

The Truth

The truth of the matter is that there is no such thing as a typical payday borrower. They come from all walks of life and are of all educational levels. This will clearly be seen in this report, which will consider people working in fields from education to construction.
Those who apply for a payday loan come from different professions with their own individual problems and circumstances. However, despite the diversity in these professions, there are also a number of common links which some jobs share.
A factor that can be considered when looking at which professions need payday loans could be changes in working practices, as we discuss in Chapter 2 about professional care workers, or Chapter 18 talking about warehouse workers. There might also be financial problems caused by new pay structuring, as will be examined in the chapter about teachers and performance-related pay (Chapter 20) and the increasing use of sales-related bonuses for bank staff (Chapter 11).
Some financial problems faced by people in this report are specific to a particular profession, such as the issue of working on commission (Chapter 8 about estate agents) or the reduction in overtime for police officers after public spending cuts detailed by the Winsor Report (Chapter 21).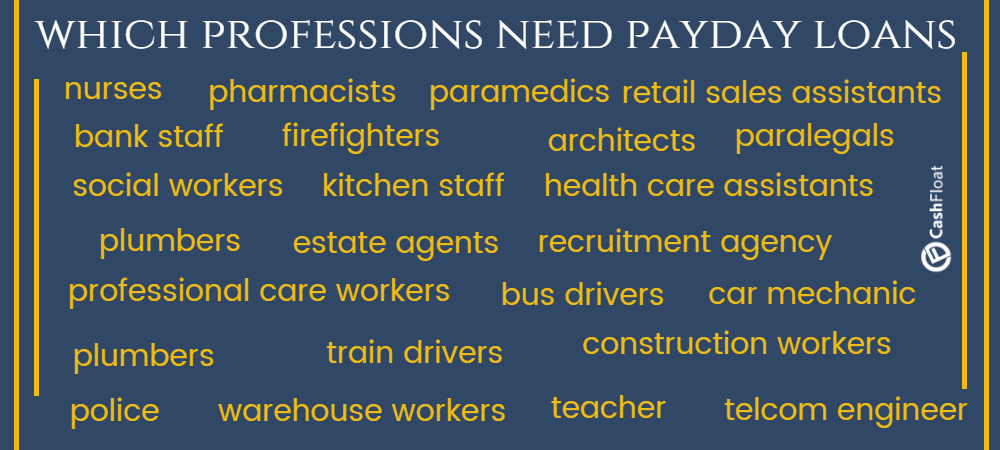 Which profession should I choose?
Moving professions is a big decision, but the deal breaker is often the money. If certain professions need payday loans more that others, best to go down a better and safer route. This is what our guide can help you do. This report will also examine factors such as whether there are skill shortages in a particular profession and whether this has an effect on salaries, such as Chapter 14 (Plumbers- A Skills Shortage Or Foreign Competition?) Also, the reasons behind so many people leaving a profession (social workers in Chapter 4 and paramedics in Chapter 5) will be analysed; is dissatisfaction only caused by low salaries?
The people in this report represent a cross-section of different professions from the UK. Some are from the public sector whilst others are from the private sector. Whilst some of the jobs need years of academic study and training, others are unskilled. Some of these jobs are traditionally associated with low pay such as retail sales assistants (Chapter 7) but others have always had a reputation for being well-paid, like architects (Chapter 23). What they all have in common is that these professions need short term loans increasingly from payday loan companies and we want to try and find out why.
Through an examination of each individual profession (its history, training, salaries/perks, working hours/conditions and the employees' grievances), the question of why these people need to apply for a payday loan will be answered. The focus will be on what changes in their profession, if any, have caused them to struggle financially.