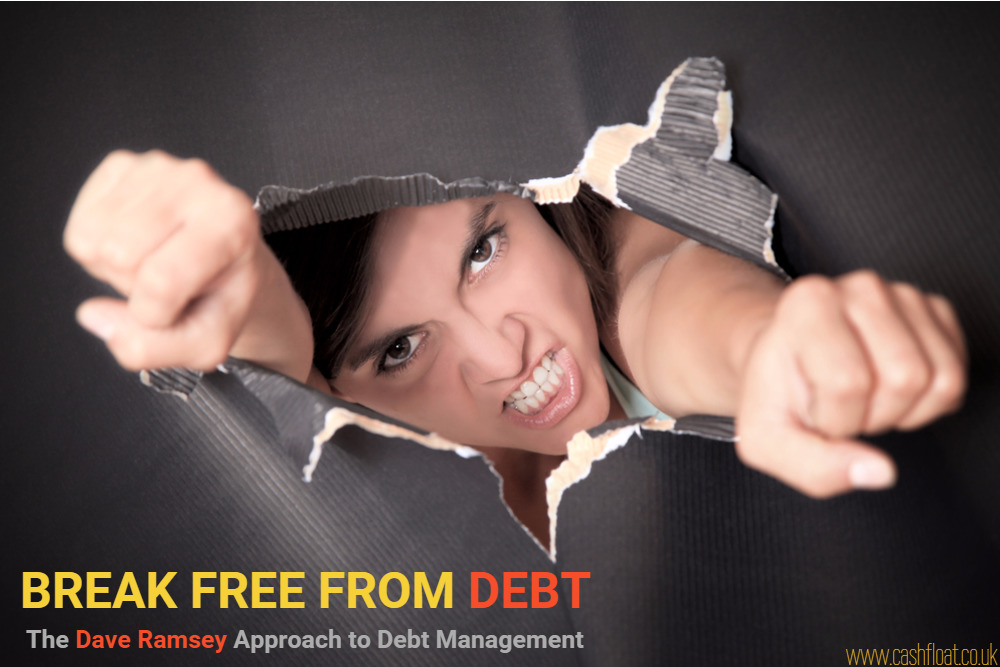 Dreaded Debt
Being in debt is never a pleasant experience. The pressure and stress that comes with debt can be exhausting and challenging. And when you have lots of debts piling on top of each other, it can turn into a living nightmare. Therefore, it's understandable that anyone in debt would desperately look for a way out of it. Nobody wants to be stuck in that kind of situation for too long. Anyone who has been in debt for a long time will tell you that they would give anything to get out of it. One small debt turns into a monster of interest and fees as the lenders come haunting you, leaving you a nervous wreck.
At Cashfloat, a payday lender for bad credit, we discovered an approach to paying off your debts that is both practical and manageable, and it actually works. The Dave Ramsey approach.
The Snowball Effect
We've all heard of the snowball effect, where you start off with something small that slowly gathers steam until it becomes an enormous snowball. When talking about debt, we would usually associate the snowball metaphor with accumulating more and more debt. Dave uses the same premise that most people use to collect debts, but he takes one step back. If the snowball can be used to build up massive amounts of debt, we should be able to reverse the process to pay off your debt.
Who is Dave Ramsey?
As well as being the originator of the debt-snowball method for clearing debt, Dave Ramsey has done much besides. Most of his work has focused on personal finance and finding ways to help people manage their money. Based on his experience of bankruptcy, he formulated many ideas that have helped people improve their finances. Since 1997, he has been writing many books on personal finance, as well as working as a motivational speaker. However, for many people, Dave Ramsey's debt snowball method is his most impressive accomplishment. Here's that method explained for you.
What is His Recommended Approach to Debt Management?
This method is used most often with revolving credit, but it can work for any debt. Most people who decide to use this method have multiple debts that are becoming too much to handle. The debt-snowball method works by paying off the smallest debts first and clearing each debt from there. It's important to completely get your head around how this operates in practice before you start to use it. So, each of the steps involved in the process are explained in more detail below.
Step 1: Organise Your Debts in Order of Size
The very first thing Dave Ramsey advises you to do when you're starting this method is organise your debts. This is something you do before you start thinking about anything else. You must organise the debts in order of the size of the debt. The smaller debts should come at the top of the list, and the largest should be at the bottom. This order will tell you the order in which you will tackle the debts. Unlike most other approaches to debt, this one doesn't take into account the size of the interest rate. However, if there are two debts of a similar size, the one with the bigger interest rate should be tackled first.
Step 2: Pay the Minimum Payment on Each Debt
Once you have put the debts in order, you can start to pay the minimum repayment on each debt. Meeting the minimum repayment is important because it keeps things progressing slowly. Only meeting each minimum repayment can be difficult. You will need to take some preparatory steps to make sure that you will always have enough money available to make these payments. If you can avoid missing these minimum repayments, you will stay on track and avoid extra fines and fees. Missing repayments is never a good thing, so this should be the foundation of your approach. Once you know this, you can develop the debt-snowball effect further.
Step 3: Start Paying Extra on the Smallest Debt
On top of the minimum repayments that you're now making, you then start to pay extra on the smallest debt. How much extra you start to pay on the smallest debt is up to you. Everyone's financial situation and income are different. So, you will need to make sure that you are paying an amount that is suitable for you. There is no point in overstretching your finances to the point at which you get into even more financial trouble. But you do want to pay as much as you can on that smallest debt. Work out how much of your extra income you can put towards paying that debt. It might mean going without some luxuries, but it will be worth it.
Step 4: Eliminate the Smallest Debt
As you start to pay extra on the smallest debt, it won't be long before you can clear it completely. Because this debt is going to be relatively small, it shouldn't take too much pay it off in full. Of course, the speed at which you manage to get rid of it will depend on its exact size, interest rate and how much you repay. Paying off the smallest debts first is the basis of the snowball approach and something that Dave Ramsey puts an enormous amount of emphasis on. The point over here is that you are slowly diminishing the amount of debt you own, slowly easing the burden off your shoulders.
Step 5: Repeat Until You Have Paid Off Each Debt
Once you have cleared the smallest debt, you need to refer to your ordered list and start paying off the next debt. This debt will also be quite small, but not as small as the last one. The point is to keep repeating the process continually until you reach that magical point where you have freed yourself from the shackles of debt. It will take a long time, but it's a steady and workable approach. As you pay off each debt, you will be left with fewer and fewer debts to tackle. The trick of this method is perseverance. Keep at it, slowly but steadily, until you reach that moment of pure relief; freed from debt.
The Results of This Approach
When you take this kind of approach to clearing your debt, your debts will disappear one by one. You don't get quick results, and this is one of the things that makes it most appealing to people. Of course, the results you see in clearing your debts will slow down as the debts you're dealing with bigger debts. But the positive perspective is that you will be free from the pressure and stress that came with those other, smaller debts. Then you can focus on shifting that large debt that you've been ignoring while you clear the smaller ones.
Why does it work?
The basis of this approach is the psychological effect of clearing your debts. When you have cleared the smallest debt, you still will be deep in the dungeon of debt. But you feel as if you are accomplishing. That's the rationale for focusing on the smaller debts first is because they're quicker to clear. When you clear debts quickly and see them disappearing one at a time, you get a psychological boost. But if you would focus on the biggest ones first, although you might be achieving more, you don't get this same motivational impact. That's because those smaller debts will still be lingering and waiting for you. Motivation and psychology should not be underestimated when it comes to dealing with money and debts. These things can have a huge impact on your success in clearing your debts. When you don't have the right frame of mind, it can feel hopeless, and that's not what you want. That's why you should avoid chipping away at your largest debt until your smaller ones are dealt with first.
The Dave Ramsey approach, like all methods, will not work for everyone. But, will it work for you? Well, the only way to know for sure is to give it a try.