Payday Loans around the World – Chapter Four
Story highlights
Besides banks, companies offering consumer loans are not subject to financial supervision.
97% of household debt in Poland are bank debts.
The APR of a Payday loan in Poland taken for one week is over 6000%.
In Poland, the most important active regulations for non-bankers lenders is the Polish Act on Consumer Credit (CC). Polish regulations are generally in line with the EU standards regarding consumer loans market. Under the CC, a consumer loan is understood to be a loan of no more than PLN 255,550 (approximately €60,000). It may also not be the equivalent of this amount in a currency other than the Polish zloty, which the lender grants (or promises to grant) to the consumer. Payday loans in Poland, and online loans granted to consumers by a Polish non-bank lender are generally defined as consumer loans.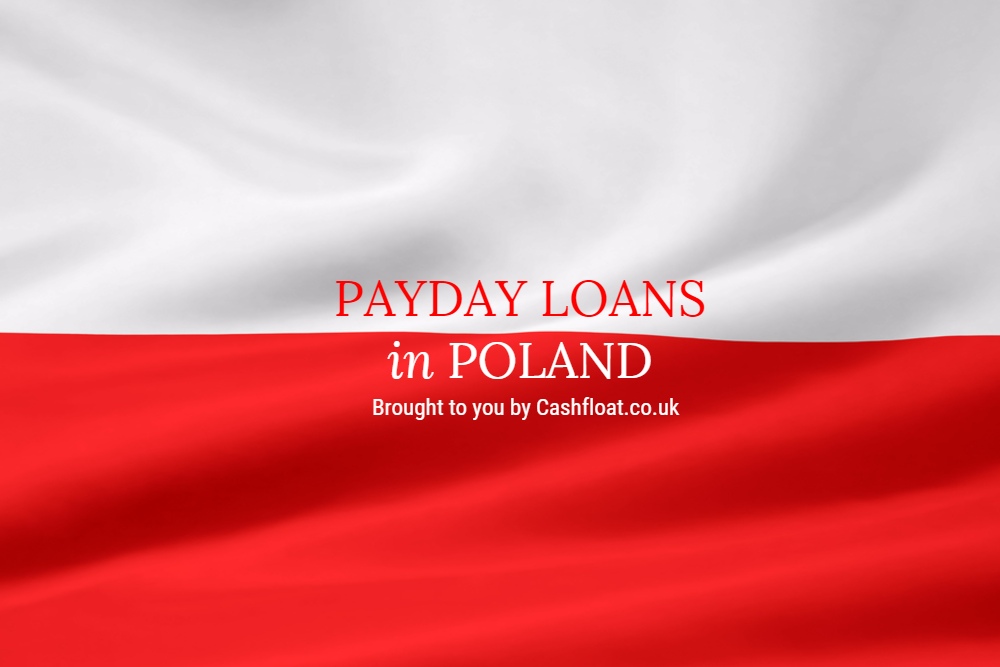 The main regulatory body for supervision of the lenders is the Polish Office of Competition and Consumer Protection (Urząd Ochrony Konkurencji i Konsumentów, UOKiK). Unlike banks, companies that offer consumer loans are not subject to financial supervision. Moreover, they are not required to publish information other than required by law and concerning their core business as business operators, e.g. they do not have to publish statistics on the number and value of loans. This makes the research of payday loans in Poland even more difficult.
Payday loans in Poland – Industry and Market Research
During our research, we used the report "Personal Loans Market in Poland" provided by PWC.
The chart below shows the situation in the financial service industry in Poland. The service providers are divided into two main segments: deposit taking and extending loans, and credits using own funds. It is clear that banks are the only financial body supervision by the FSA. Businesses that operate outside the FSA's supervision are the Personal loan companies, Pyramid schemes and the shadow economy lenders.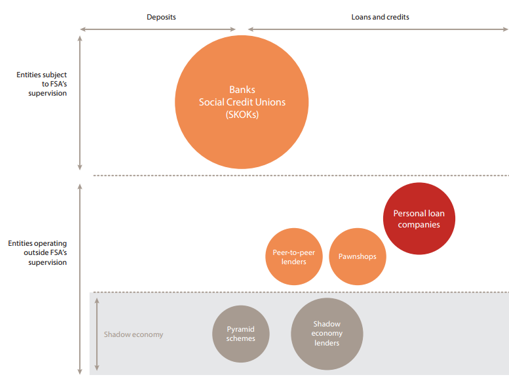 Personal lenders are usually joint stock or limited liability companies. They do not finance their lending operations through customer deposit but use sources of funding that are typical for business enterprises. According to the Social Diagnosis data, the total number of Polish households with any type of debt has increased to 37%. Only 0.7% of the total financial debts are due to personal loan companies, while 97% are due to the banks. In 2013, it was estimated that the liabilities toward non-banking companies are between 3 and 4 billion PLN. The chart shows that personal lenders are the least popular way of borrowing. Only 4% of the total indebted households have loans from a personal loan company.
Apart from banks (88%), more popular types of lenders in Poland are:

Hire-purchase companies (8%),
Private individuals (6%)
and Social Credit Unions (5%).
When considering the number of households in Poland (approx. 13.5 m), the overall percentage of indebted households (37%) and personal lenders' share in the household debt (4%), we can calculate that the number of households with personal loans is approx. 200,000.
In 2013, households in Poland borrowed PLN 4 billion. There is a huge difference in the amount of households that borrowed from banks (PLN 543.2 billion) and debts due to consumer loans (PLN 123 billion). Despite the huge difference between banks and personal lenders, the loans provided by personal lenders has grown over the years. It has become one of the methods of household funding and a complementary part of the financial services market, contributing to economic growth.
Have Payday Loans in Poland Increased or Decreased?
From 2009 to 2013 the value of loans increased continually from PLN 1500 million to PLN 2300 million. The increase since 2009 may be the effect of self-regulation activities of banks, which had to tighten their procedure and restrict the supply of credits in the face of the global financial crisis. There are many explanations as to why these increase occurred but the most probable is the organic growth of the market. Additionally, there was an increase in the value of the single loan which increased from PLN 1,500 to PLN 1,700.
The cost of payday loans in Poland is directly proportional with the loan term. The cost of a one-week loan is between 10-15% of the net loan amount, and for 20-30 weeks the cost is 50% of the net loan.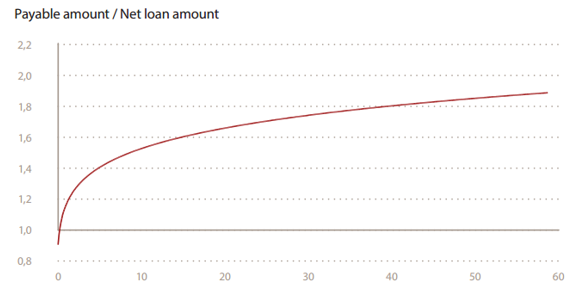 In contrast, the loan term and the APR shows an opposite trend. The chart shows that for loans with a term of up to one week, the APR is over 6000%. With a longer term loan, the APR decreases. E.g. for loans with a 20-week term the APR is from 1000% to 1200% APR. Find out here what is APR.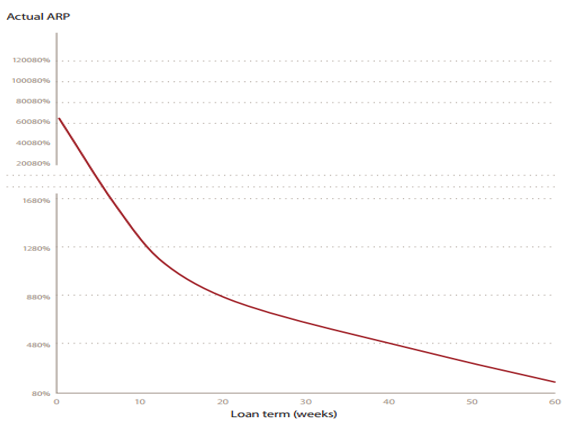 Consumer charcteristics for payday loans in Poland
As we mentioned earlier, 4% of the borrowers in Poland have debts due to the personal loan lenders. According to the PWC report, the basic characteristics of households with debts to personal lenders and other institutions are fairly similar. They have a similar structure of education, chief income, and place of residence. The only difference is that fewer borrowers with debts to personal loan companies (11% vs. 16%) live in the larger Polish cities (over 500,000 inhabitants). However, the households who borrow from personal lenders are in a much more difficult financial situation, and about 50% reported that they could barely make ends meet. Also, 29% of households have debts to both personal lenders and other financial institution. It is widespread view that ones who borrow money from personal lenders have a 50% lower average income than households indebted to other institutions.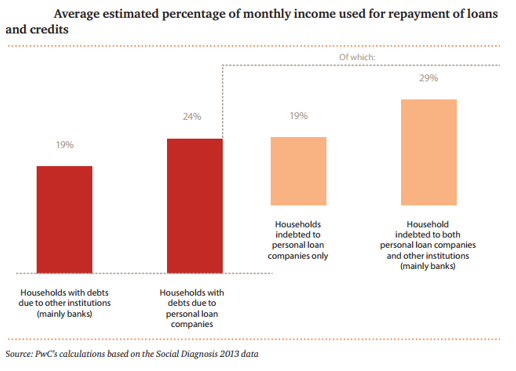 The average monthly income of a household with personal loans is PLN 2,520, compared to households with debts to a bank where the average income is PLN 3,967. The chart shows the estimated average percentage of monthly income used for repayment of loans and credit. Households with personal loans use 24% of their income to cover their loan debts.
How Do Poles Use Payday Loans?
Personal loan borrowers use money from loans for different purposes. The primary use is for house repairs (53%) and to cover current expenses (39%). The next most common uses are for debt repayment (31%), regular bills (29%), buying durable goods (27%) and other purposes (22%). Other uses for borrowing personal loans are medical reasons, leisure, securing the future of the children, etc.
Competition for Payday Loans in Poland
In Poland personal loans are divided in three segments according to the customer service approach, and the loan term.
Below we present the segments and their characteristics.
A. Home credit companies

Application for loan can be through call center or text message and online;
The contract is signed at the borrowers home;
The amount of the loan range from PLN 200 to PLN 10,000;
The loan term is from 18 to 62 weeks;
Average loan amount is less than PLS 1,000;
Typical consumer is private individual.
B. Lending companies with branches/outlets

Can be applied for through phone, website or physical store;
Contract is signed at the lender store;
Loan amount can be from PLN 50 to PLN 25,000;
Loan term is from one week to 48 weeks for the higher amounts.
C. Online lending companies

Loan application is only through the lender website;
Offer loan amounts from PLN 50 to PLN 3,000;
Maximum loan term should not exceed 30 days.
The website allcredits.lv present a guideline for choosing credit companies in Poland and allow you to compare the loans. We used this website to compare various short term loan, fast credits and consumer credit companies that offer payday loans in Poland.
Name of company
Loan amount
Loan term
TaniKredyt
PLN 200 – PLN 4,000
5 – 30 days
Freezl
PLN 100 – PLN 5,000
Max 35 days
FinansowePosilki
PLN 200 – PLN 1,000
Max 30 days
NetCredit
First loan up to PLN 2000, rest up to PLN 4000
Max 30 days
ExtraPortfel
100 to PLN 5,000
Max 45 days
PozyczkaPlus
PLN 200 to PLN 5,000
Max 65 days
Ferratum
PLN 100 to PLN 1,500
15 – 60 days
Compare to payday loans in the UK
Cashfloat
£200 – £1100
1 – 4 months
Personal Loan Laws in Poland
Since 11 March 2016, "The Act on the Amendment to the Act on Financial Supervision, the Banking Act, and other Acts of 5 August 2015" (Amendment) have been enforced, which brought the following important aspects regarding non-bank lending in Poland:
It introduces the definition of "non-interest costs of credit" (pozaodsetkowe koszty kredytu) to the CC – which are defined as "the total cost of credit excluding interest".
It sets a cap on the above non-interest costs of credit, which cannot be higher than 25% of the total credit (loan) amount plus 30% of the total credit (loan) amount per annum, but in any case no more than the total credit (loan) amount over the total term of the credit (loan), and provides that certain loans (and their costs) which are deferred and/ or rolled-over within a term of 120 days should be combined for the purposes of this calculation.
It sets out the maximum level of all payments related to late payment (e.g. "soft collection" costs) and interest for late payment, at the level of the maximum interest rate for the level of late payment.
Currently personal loan companies are not required to obtain a license if their activities do not involve collecting funds from customers and exposing them to risk. From the institutional perspective, the regulatory and control powers of FSA defined in the Act on Financial Market Supervision and to some extent in the Banking Act (with regard to banks) do not apply to personal lending companies. There is no requirement to maintain a register of personal loan companies, therefore their activities are not regulated or supervised in a way comparable to banking activities. In the current legislation in Poland there is no limit on the maximum APR. This is quite in line with the prevailing trends in the European financial markets.
Sources
• https://www.knf.gov.pl/en/index.html
• http://www.lexology.com/library/detail.aspx?g=8257beec-d1fc-472e-8dec-ce95a7297969
• http://www.diagnoza.com/data/report/report_2013.pdf
• https://www.pwc.pl/pl/publikacje/assets/pwc_raport_rynek_firm_pozyczkowych.pdf