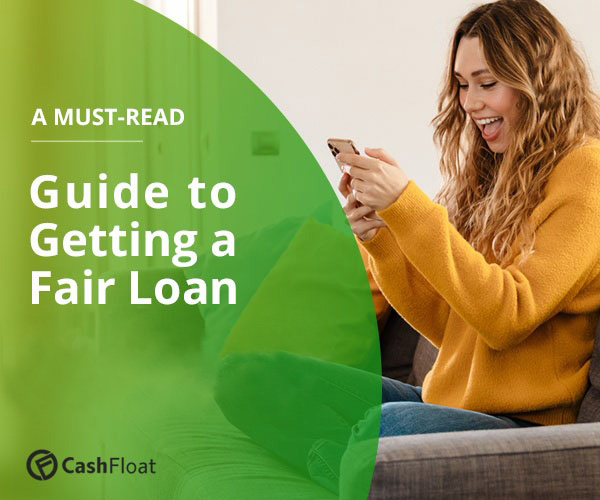 A Must-Read Guide to Getting a Fair Loan in 2023
We know how confusing the world of short term loans can be, especially if it's new to you. As a premium short term lender in the UK, we want to help you make the right decision and show you how to navigate your loan journey, from looking for a lender to making your repayments efficiently.
In this mini-guide, we will cover a range of topics from the types of loan available and how to spot loan sharks, to what steps to take if you encounter problems paying back your loan. Please be aware that the information we provide is only for informational purposes and should not be considered professional advice.
Feel free to continue reading, or choose a section to read further about:
The different types of loans and what they should be used for
Applying for your loan safely
What to compare when looking for a loan
Has your application been declined?
Making your repayments
Clicking on links throughout this page will lead you to more information on that topic.
Section 1
The different types of loans and what they should be used for
Getting a loan is no simple matter, and you should only apply for a loan if you need one in an emergency. For example, if your car just broke down, and you need the money to pay for the repairs, getting an online loan may be the only way forward. Using a payday loan to pay for a holiday abroad or to help you buy the latest model iPhone is certainly not recommended.
8 different types of loans
Here are 8 different types of loans and what they should be used for (click on the links for more information on each loan):
Payday loans:

Pay day loans are generally applied for online, and money is received quickly into a bank account. They're perfect for people with short-term cash flow problems. As long as you can pay the money back in the near future, the high-interest rates should not become a problem.

Peer to peer loans:

Peer to peer loans are a great option because they allow people to borrow money from other people without using a bank or other financial institutions. It should also only be used for those with short-term cash flow problems.

Online instalment loans:

Online instalment loans are small loans which are paid back in weekly or monthly instalments (they are typically borrowed over 3-6 months).

Guarantor loans:

These loans are helpful if you have bad credit. To apply for the loan, you must have a guarantor that will pay back the loan if you default.

Cash advance loans:

A cash advance is money you can withdraw directly from your credit card. You will need to stick to a repayment plan to ensure that the credit card company gets paid back.

Debt consolidation loans:

This kind of loan is useful when you have debt in a few places. You can get a debt consolidation loan to help you pay off all those debts. Instead of dealing with lots of small debts, you will only owe one loan.

Unsecured personal loans:

Unsecured personal loans are larger loans, usually from banks. More recently they have become available from direct lenders as well.
Secured personal loans: A secured personal loan is a larger loan that is secured on collateral such as a car or a house. These loans take longer to process than unsecured loans.
Section 2
Applying for your loan safely
Keeping yourself and your details safe and secure when applying for a loan is of utmost importance. You first and foremost must ensure that the website you are on to apply for a loan is legit.
5 things you must check when applying for a loan
Look for their full contact details.

If they do not show their address and phone number in the footer or in another prominent place on their website.
Is there an FCA number on their website? Can you click on it? A clickable FCA number with a link to their licence on the FCA website is a clear proof that the company is legit.
Are they a payday direct lender or broker? It's always best to get a loan with a direct lender as you can ensure that there are no hidden costs and won't be paying any extra fees.

Do you clearly understand the product that they are offering?

If they are not straight and clear, they are probably hiding something – watch out, it may be a scam!
Does the website have HTTPS (the secure connection) on the URL bar of their browser? Never give out personal information on a website without that secure connection.
If you are still unsure about the legitimacy of a website and their procedures, it's advisable to check out the user reviews and make sure they are genuine. It is preferable that the lender uses an independent site to monitor their reviews. This gives the reviews more authenticity.
Know what payday loans can be used for
Payday loans should only be used in an emergency. Here are some examples when a payday loan may be helpful:
Your car has broken down and you need to repair it to get to work
You require dental treatment and don't have the money at hand for it
You need an emergency flight but don't have the funds to pay
When your bank account is about to be overdrawn, it may be cheaper to get a payday loan over being charged overdraft fees.
In all of these situations, it's essential to ensure that you will have enough money to cover the cost of the loan you take. Never take out any kind of instant loan if you are not sure you can afford it.
Section 3
What to compare when looking for a loan
When searching online for loans, you will notice that loan terms, rates and many other factors differ from lender to lender. To find the loan that's best for you, it's beneficial to you that you compare short term loan factors which are important.
| Loan factors | Why you must compare these factors |
| --- | --- |
| Direct lender/ broker? | Check to see if you are applying with a direct lender or broker by looking at the footer. You don't want to get charged brokerage fees. (read more) |
| Is there an application fee? | Check the lender's how it works page to see if they charge a fee for applying. |
| What is the APR charged on the loan? | This is the rate of interest that you will get charged on your loan – Every website should have this clearly displayed. (read more) |
| How fast the money is funded to you? | You are borrowing money and you need it fast. Check how long it takes for the lender to fund you the money. (watch more) |
| Hidden fees/ extra charges for repaying your loan early | You can save up to 30% on your payday loan by repaying your loan early. Make sure that the lender is offering this. (watch more) |
Can you afford the loan?
Once you have compared your loan options, one of the most crucial steps you must take before borrowing money is to ask yourself, 'will this loan get me stuck into a continuous cycle of debt?'. We strongly recommend that you use a loan calculator to assess if you can afford the no guarantor loan.
You can always cancel your loan within the first 14 days of taking it out, although you'll still need to pay any interest you've accrued.
Section 4
Has your application been declined?
Many times loan applications can lead to a decline. This can be frustrating, especially if you need the money fast. Just because you have been declined with one loan company, does not mean you should refrain from applying for a loan with another lender. However, it may be useful thinking about why your application was declined. Here we have come up with some reasons we may decline a potential borrower.
Why your application may have been declined and how to fix them
You are unemployed– If you are unemployed, there is no guarantee that you will have the money to repay the loan. This is a risk for the lender that they won't get their money back. On top of this, it would also be irresponsible of a lender to lend money to a customer if they will have no way of paying back the loan. However, if you can prove that you are getting a substantial source of income from benefits etc. and that you can afford the loan, then some lenders will consider loans for unemployed people.
You have a bad credit history – Your credit history shows a lot about your financial habits. Potential lenders can see a lot from your credit history. For example, they can see if you tend to make repayments on time and they can see if you have maxed out your credit card limits. No lender wants to lend to someone who has a history defaulting on loans. You may want to consider repairing your credit score before applying for another loan.
You have taken out multiple loans recently – Lenders are wary of applicants who have taken out more than 1 short term loan recently. No responsible lender wants to feed a bad habit, especially if you are taking out the loan to repay another loan. However, if you still need to borrow money, there are many alternative borrowing options that you should consider.
Your self-declared affordability – Before even conducting a credit check, FCA authorised lenders assess your affordability. For short-term loans and payday loans, they consider it affordable if the monthly repayment is below 70% of your "disposable income." Many applicants overlook this and rush through the loan application. Direct lender websites will display the estimated monthly repayment, while brokers will not. Before you click submit on the application form, make sure that the monthly repayment is higher than your "free income". Being truthful in your application is essential, as lenders may reject it solely based on the provided values, even before checking your credit score.
Section 5
Making your repayments
It's essential to make your loan repayments on time, as agreed when you took out the loan. If you think you may encounter difficulties making repayments, you should contact your loan provider straight away.
There are some legitimate reasons why you may fall behind on payments. However, the most important thing is to be straight with your lender and explain any difficulty you may have. If you are in financial hardship, your lender must treat you fairly. The industry's regulations ensure that borrowers are always treated fairly. These are some problems which you may experience:
Your credit card is lost or stolen
You have simply forgotten to pay
Unexpected financial difficulties
If in debt, seek advice
If you are in debt and can't pay back your loan, it's a good idea to seek help from a debt management company. Stepchange is a debt management company who can help those in financial distress.