Payday Loans around the World – Chapter 32
Story highlights
Only 13% of respondents for a survey used payday loans for short term credit needs, the rest used them for basic expenses.
In a survey, 43% of payday loan consumers were full time employed.
Nearly one in 10 payday borrowers in Texas used payday loans monthly.
Payday loans in Texas are declared legal by the 7 Tex. Admin. Code § 83.604; 4 Tex. Fin. Code §§ 342.251 et seq. and §§ 342.601 et seq. It is regulated by the Texas Office of Consumer Credit Commissioner.
According to the laws in Texas, these are the main rules for payday loans.
Loan terms: The maximum loan a borrower can take is not specified. The maximum loan term is as follows. For a loan of up to $100 or less, each amount of $10 can be borrowed for up to one month, for a maximum of six months. For a loan of over $100, $20 can be borrowed for each month. The maximum APR for payday loans range from 83.43% for a 30-day, $350 loan, to 569.92% for a 7-day, $100 loan. The charge for a 14-day $100 loan is $11.87. The APR for a 14-day $100 loan is 309.47%.
Debt limits: The maximum number of outstanding loans at one time is not specified. Rollovers are not permitted. A cooling-off period and repayment plans are not specified.
Collection limits: Collection fees and the right for criminal action are also not specified.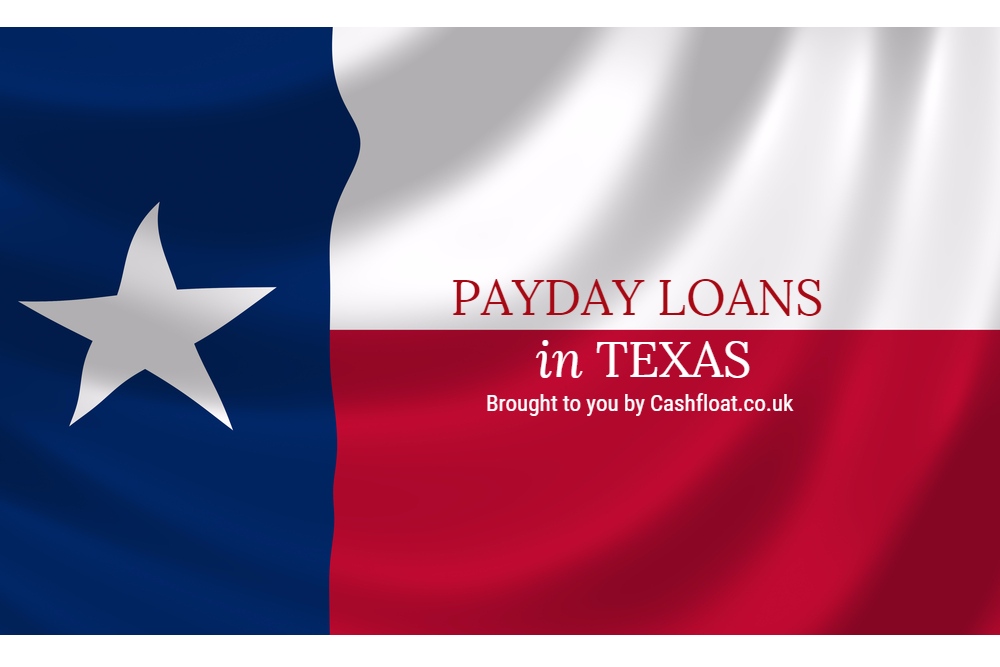 Industry and Market Research for Payday Loans in Texas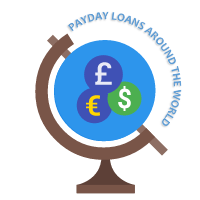 Are payday loans in Texas popular?
Texas is the second largest and the second most highly populated state in the US. The large and diverse economy of this state benefits its large population, but in April 2013, the unemployment rate in Texas stood at 6.4%. That was the perfect call for
short term loans
. The need for quick money drives many Texans to payday loans, which they can use for a variety of purposes.
According to source from The State of Lending in America & its Impact on U.S. Households for "Payday lending abuses and Predatory practices" (September 2013), statistics shows that Texas is in the group of states without Meaningful regulation of payday lending. The average payday loan taken out in Texas is for $522, and Texans pay about $683 million annually in fees alone. Texas has 2,617 payday lender stores.
Based on the findings of CRL's "Phantom Demand "(Parrish & King, 2009), Texas has a unique business model for payday lenders in which they do not tolerate the state's payday lending regulations, but instead work as "credit services organizations" or CSOs. Then they partner with independent third-party lenders which provide the loan's funding. Due to the fact these loans aren't difficulty to kingdom obstacles on payday lending, payday loans in Texas have a tendency to be for larger quantities, have higher fees, and do not characteristic restrictions including renewal bans common in other states.
In a 2008 survey, 5,000 low and moderate income Texans showed that they mostly used payday loans for basic expenses such as utilities, food, and housing. Only 13% of respondents used these loans for short term credit needs. Nearly one in 10 payday borrowers used payday loans monthly. Over half of the payday borrowers or 58%, extend their loans, or make a rollover before they can repay outstanding loans. Nearly one in four of respondents rollover loans multiple times.
Competition for Payday Loans in Texas
While researching the payday lending market in Texas we came across various sources of payday licensed lenders.
According to Yellow Pages only, Texas has a large number of 6086 payday loan lending companies. The following are the 5 top ranked companies for Texas:
Ace Cash Express – a 5 star rated company, with A+ BBB score. It has estimated costs $75/651%. They are in this business since 1996 and are state licensed. According to their website, they have served more than 38 million customers.
Check Into Cash – also a 5-star rated company, found in 1993. They are one of the only BBB accredited short term lenders with A+ score. Their estimated costs are $57/510%.
Cash Central – 5-star company with B BBB rating. Estimated costs – $75/651%. They are state licensed.
CashNetUSA is one of the main players in the subprime personal loan lending space. It is found in 2004, licensed by the state with estimated costs $75/651%.
Loan by Phone is an online site powered by Check Into Cash. They offer loans online and have an A+ BBB rating. They operate in this business since 2003 and are state licensed. Estimated costs are $76.43/664%.
The third and final source is the online-payday-loans.org, and they have been helping consumers compare actual payday lenders by objective criteria. According to them there are three top legally operating online lenders: 1) CashCentral.com, 2) CheckCity.com and 3) CheckIntoCash.com.
Consumer Characteristics
"24Biz" is US based, payday loan company and made an "Analysis and research of the market of short-term loans in Texas" based on statistical data of 2015-2016. In this chapter it will be present the characteristics and patterns of the payday borrowers in Texas.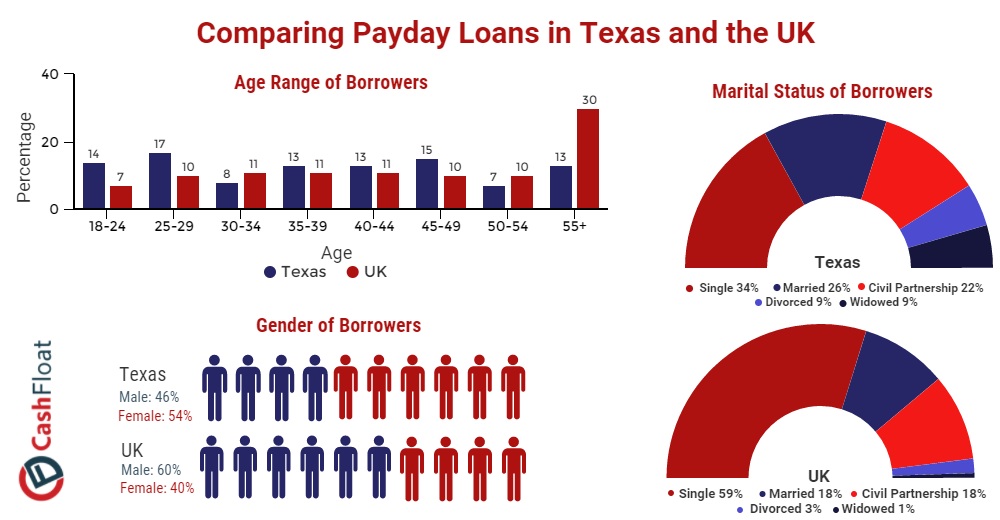 6.1% of the adult population in Texas have used a payday loan;
The average loan per borrower was $389;
Income – 29% of borrowers earned less than $15,000. 23% of borrowers earn between $15,000 and $25,000,15% of borrowers earn between $25,000 and $30,000. 13% earn between $30,000 and $40,000, 11% of borrowers earn between $50,000 and $75,000. Borrowers with an income above $75,000 took out 2% of loans.
64% of borrowers rent their place of living and 36% owned their homes;
Employment – 43% of the consumers were full time employed, 12% were part-time employed and 17% were unemployed. 6% of the borrowers were individuals with some disabilities, 7% students, homemakers 10% and 5% of retired.
Race – 52% of the borrowers were from the White race and 48% from the Other races;
State Laws for Payday Loans in Texas
Payday loans are governed by the Texas Finance Code, which applies to online and storefront loan providers. The maximum term for a loan of $100 or less is one month for each multiple of $10. If the loan amount exceeds $100, the maximum loan term is one month for each multiple of $20. When it comes to fees, the Texas Financial Code stipulates the following: For loans of up to $30, a payday lender can charge no more than $1 for every $5 borrowed. If the cash advance is between $30 and $100, an acquisition charge of one-tenth of the loan amount may apply. An installment account handling charge may also apply. For payday loans in Texas over $100, the acquisition charge cannot exceed $10, and the installment account handling charge cannot exceed the ratio of $4 for every $100 per month.
Usury protections in the Texas Constitution prohibited lenders to charge more than 10% interest unless the Texas Legislature specifically authorizes a higher rate. Payday and auto title businesses have found a way around the constitutional protections by exploiting a legal loophole. Payday and auto title storefronts register as Credit Access Businesses (CABs) under the Credit Services Organization (CSO) Act, broker loans between the borrower and a third party lender, and charge borrowers high fees for arranging and guaranteeing these loans. The third-party lender charges interest at or below 10% to avoid licensing under Texas law. CAB fees are completely unregulated and result in APRs over 500%.
Texas is one of the few states that has not taken some action to tighten the laws for the payday loans. As a result, payday and auto title loans in Texas cost almost twice as much as they do in other states. As an example of this, while a Texan taking out a $500 payday or auto title loan pays $110 in fees, a borrower in Nebraska pays $75 in fees and a borrower in Florida, $55. In Texas, the credit market is broken, the lack of oversight and the rapid growth of payday and auto title storefronts, have led not to more competition and better products for consumers but to higher-cost loans that disable borrowers from paying them back.
On June 2nd, the Consumer Finance Protection Bureau (CFPB) proposed a rule to crack down on payday and auto title lending practices across the country. Specifically, the proposal seeks to safeguard consumers from taking on debt they cannot afford, by:
Requiring lenders to determine a consumer's ability to pay before providing a loan;
Limiting repeat-borrowing for certain short term loans;
Authorizing less-risky long-term lending options as a substitute for traditional payday and auto title loans; and
Requiring lenders to give consumers written notice before debiting their bank account for payment, and requiring consumer's permission after two failed attempts to debit the consumer's bank account. Comments on the proposed rule are due by September 14, 2016.
Sources
http://www.paydayloaninfo.org/state-information/51
https://www.speedycash.com/rates-and-terms/alaska/
http://www.ncsl.org/research/financial-services-and-commerce/payday-lending-state-statutes.aspx
http://www.tml.org/payday-updates
http://www.texasfairlending.org/resources/faqs/
http://24biz.biz/payday-loans/TX/
http://www.responsiblelending.org/state-of-lending/reports/10-Payday-Loans.pdf
http://www.texasfaithforfairlending.org/facts-about-payday-lending-in-texas