You've taken out a short term online loan, you thought you'd be able to pay it back. However, the repayment date is approaching and you can't repay your payday loan. What should you do? Cashfloat presents a comprehensive list of information and advice to help.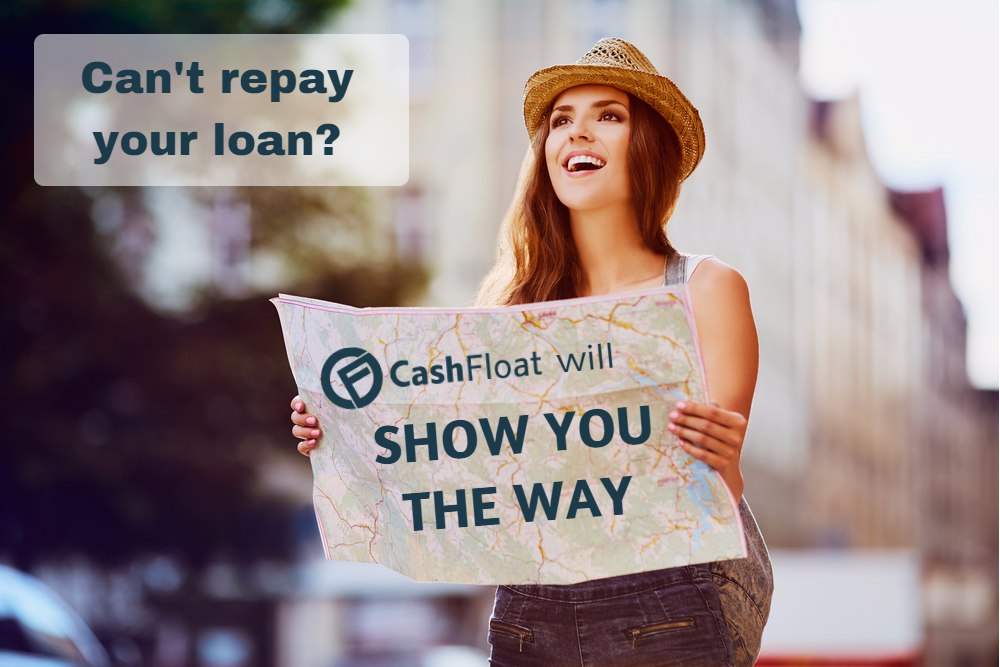 Story highlights
If you know your rights, you're likely to save yourself money and aggravation
The regulations are there to protect you, so they're important to know
NEVER borrow to repay your payday loan
Payday Loan Repayments
Taking out a payday loan is one solution to the problem of needing money quickly. You can get the money you need in almost no time, and pay it back quickly too. However, the thing people worry about most when considering a payday loan is managing when it is time to repay your payday loan. At the time of taking out the loan, they may feel they can easily repay it. But you can't predict the future, and circumstances might arise that prevent you from paying on time.
You might be worried about incurring huge fees and possibly getting into even more debt. Thanks to new regulations for the industry, lenders can only charge you set amounts in interest and late fees. However, you should still worry about how your finances could be affected if you aren't able to repay your payday loan on time.
There are several reasons why you might find yourself unable to repay your payday loan in time. For example, you might be paid later than expected by your employer. Or perhaps an unexpected expense has arisen, and you needed to use your pay to cover that instead. If you think you are going to struggle to pay back your payday loan, try not to panic. Payday lenders need to treat borrowers fairly when they experience financial difficulty. By being aware of your rights and the industry's regulations, you can ensure you aren't treated unfairly by your lender.
When falling behind on loan repayments, there is no blaming it on the dog. Everyone should ideally take responsibility for their loan repayments to avoid damaging their credit report. Of course, there are many legitimate reasons why you might fall behind on a loan repayment. Here are some examples:
Losing your debit card or having it stolen is normally not under your control. If this happens, make sure to contact any company that is due to debit payments from that card to let them know. Then, when your new card arrives, you can update them on the new card details and avoid defaulting on any of your payments. If, for some reason, you cancel your card, make sure to follow the same procedure
You might just forget that you have a payment going out of your card. Many people tend to move their money into savings, or another bank account, as soon as it comes in from their employer. Make sure that there is always enough money in your account that your card is linked to. This will ensure that payments to go out without any issues, for secured loans or unsecured loans.
How many of us agree to a payment going out on a certain day, thinking, 'That's fine, I will definitely have money then'. The next thing you know, you have overspent because of a friend's birthday, or a day out with family etc. To avoid this, and ensure you can cover secured loans or unsecured loans that you may have taken, make sure that when your salary comes in, you siphon off any money that you need to pay out that month. Make sure that you do not default.
If this means living a slightly less glamorous life for just one month, it is worth it in the long run. After all, no pain no gain!
If, however, you were not prepared enough, and the money is already gone, the best thing to do is contact your creditors immediately. Inform them of a date when you have more money coming in to cover the full cost of either the secured loans or the unsecured loans.
Falling under financial pressure is not as farfetched as you might think. All it takes is one unanticipated bill, an emergency repair, or a month of careless spending. If this happens, you need to evaluate your income and expenditure carefully. Assess how much disposable income you have available. Once you have a clear picture, you can work out how much you can afford to pay monthly to each of your outstanding creditors. The next thing to do is write to your creditors letting them know of your current situation. Ask them to accept your new offer when paying off secured loans or unsecured loans. At this point, most of your creditors should agree to freeze the interest on your loan from accruing, and set up a new, customised plan.
It is important to know that in the event that your situation is too difficult to handle, you can seek advice from impartial third party organisations, such as Debt Management Companies, or The National Debt Line. If necessary, you will be advised to set up a Debt Management Plan where the Debt Management Company involved will take charge of your debt for you, and pay your creditors for you on a pro rata basis. One such free organisation is Stepchange debt Charity.
A rare, but possible, situation that can occur is that an unprecedented life changing circumstance can occur. This can cause you to stop making your regular payments. These can include, but are not limited to a severe illness, redundancy, a natural disaster or even a death in the family. All of these will cause you to stop working immediately – thereby, stopping your income. In these situations, it is important to inform your creditors immediately of your circumstances. Ask them to freeze your interest so that you can review your situation and let them know when you can recommence payments. Your creditors will normally be very understanding and agree to review your account in a month or two – giving you some breathing space to re-assess your finances. Some responsible lenders will ask for proof of your situation.
If you are uncomfortable with notifying your creditors of your inability to pay on the pre-agreed date via telephone, you can do so via email or sometimes even by sms. This avoids awkward confrontations, as well as gets the job done. You must be aware that failure to notify your creditors of your incapacity to pay can result in more serious consequences than you might have first thought.
Payday Regulations
Firstly, it's important to be aware of the regulations that payday lenders have to follow when someone is later repaying their loan. The regulations changed in 2014 and again in 2015, so you should make sure you know what they are. Firstly, there is a cap on default fees, which is £15. If your loan continues, they can't charge you more than 0.8% a day on what you owe. There is also a cap on the total cost of the loan, which is 100% of the loan – meaning that you won't pay back more than twice what you borrowed. This includes all interest, fees, and charges. Another important thing to know is that there is a limit on how many times your loan can be rolled over. Lenders can now only roll over your loan to the next month twice.
Also, they can only use a continuous payment authority to try to collect payment twice. They can also only take the money from your account if you have enough to cover what you owe. They are not allowed to take partial payments. However, you can give consent for them to take smaller amounts if you want to work out a more manageable repayment plan.
Cancelling a Recurring Payment
When you take out a payday loan, you usually agree to a continuous payment authority. This allows the lender to collect money from your bank account. However, they can only take the full payment amount if there is enough in your account, and they can only try twice. If you think that having the money taken from your account will mean you can't afford essentials such as food, you can consider cancelling the recurring payment. To do this, you will need to contact your bank. You should also tell your lender you have done it. They can continue to charge interest and fees on the loan, so your next step should be to work out a repayment plan.
Don't Roll Over Your Loan
When you get in touch with your lender, some of them might suggest that you roll over your loan until the next month. They can do this twice according to the law, but it's not the best idea for you. If you allow this, you could end up owing more in interest and charges.
It's a much better idea to try and work out a repayment plan first. If your lender does want to roll over your loan, they are required to give you debt advice first.
Check Trade Bodies
If you think you might struggle to pay back your personal loan, the first thing you can do is check which trade bodies the lender is a member of. These include the Consumer Finance Association, the Consumer Credit Trade Association, and the Finance and Leasing Association. Prominent payday lenders have signed up to a customer charter that sets out expectations for lenders. They require lenders to follow guidelines for how to handle people who are struggling to make repayments. They also ask that if you work out a repayment plan with the lender, they will freeze charges and interests so that your debt does not continue to build.

Cashfloat are a proud member of the Consumer Credit Trade Association, and strive to keep our customer service levels as high as possible.
Seek Advice on Debt
If you need advice on how to repay your payday loan, there are several resources you can use to get free advice. It's better to do this before contacting your lender, to ensure you know your rights and have a plan for what to discuss with them. You can choose to get in touch with charities such as StepChange or the National Debtline. You might also be able to get advice from the Citizens Advice Bureau, which provides services in England and Wales, Scotland, and Northern Ireland. A debt advisor can help you work out a plan for paying your debt and can even negotiate with your lender for you. You should let your lender know when you start working with a debt advisor.
What to expect from your lender
Payday lenders are also required to provide you with information about paying your debt. When they sound out electronic communications (like emails) and non-electronic ones, such as letters, they must include a warning that late repayment can lead to money problems. They also must provide a link to the government's Money Advice Service website. Lenders are also required to give you information about where to get debt advice. They have to tell you about an information sheet provided by the FCA, which tells you where to get free debt advice.
Can't repay your payday loan? Call us right away!
If you think you won't be able to repay your payday loan in time, it's important to get in touch with your lender as soon as you can. You can discuss with them how you should proceed and what the next steps are to help you pay your loan. They should treat you fairly and allow you the option of organising a reasonable repayment schedule. If you're developing a repayment plan on your own or with a debt advisor, they are required to suspend recovery of your debt for a reasonable amount of time.
They should also tell you where you can get free debt advice to help you work out how to pay the money back. When you contact your lender, keep records of all your communications. Save letters and emails, and write down details about your phone calls.
Payday lenders should treat you fairly when you're having trouble paying your loan. One of the things they shouldn't be doing is harassing you with constant attempts to contact you. They shouldn't call you all the time, or even send you lots of text messages and email. They shouldn't call your workplace unless you give them permission to do so. Nor should they discuss your debt with your employer or your family. If you are working with a debt advice service that is advocating for you, the lender must cooperate with them.
Look through online reviews BEFORE taking out a loan
Even though there are certain standards that all payday lenders should follow, there are some that are easier to work with than others. If you want to ensure that your payday lender will treat you fairly if you struggle to pay, you should begin by taking your time selecting the right lender before you take out a loan. You should check your lender's website to read about their guidelines on how they will contact you and how they deal with late or missed payments. Some will set out guidelines for the times they will call you, and the days when they might contact you.
They should also be transparent about the charges you might face if you can't pay. Most payday lenders will take a reasonable approach to working out payment with you. They want to be able to recover your debt and keep their reputation, so it's in their favour to work with you.
Know your rights!
Unhappy about a payday lender's behaviour when you're trying to work out how to repay your payday loan? If so, then you can complain. The first people you should complain to is the lender themselves. They should use their internal complaints procedures to deal with your problem and try to resolve it. They should resolve your problem within eight weeks. If they don't, or you're not satisfied with their answer, the Financial Ombudsman Service can help you.
Being unable to repay your payday loan in time might be worrying, but you have some ways to resolve the issue. Make sure that your lender is behaving fairly when you're working everything out.
Take the Next Step towards your Payday Loan Repayment
We've given you a lot of information and advice about what to do if you can't repay your payday loan on time. Now, it's up to you to act on it. Be proactive! Call up your lender, discuss the situation, look into your options – we're talking about your finances.