Story highlights
With social media, anyone in the right place at the right time can video and post breaking news stories.
The newspaper industry has lost approximately £200m to social media platforms this year.
Some journalists have more followers on Twitter than the papers they write for.
History of British Newspapers
– Chapter 23
The newspaper industry was forced to change drastically when social media become popular. As news began to travel much faster, newspapers had to keep up in order to maintain their readership. But when Facebook is becoming the main source of news for many people, do newspapers even have a chance?
In this article, we explore how social media has taken away from the newspaper industries – but also how it has added. By encouraging readers to comment and interact with the paper online, they can engage their readers far more effectively than ever before. Are papers making use of this? What are the results? Discover the answers and more in this fun article complete with statistics, facts and even a comic strip, brought to you by Cashfloat.co.uk, an online pay day lender in the UK.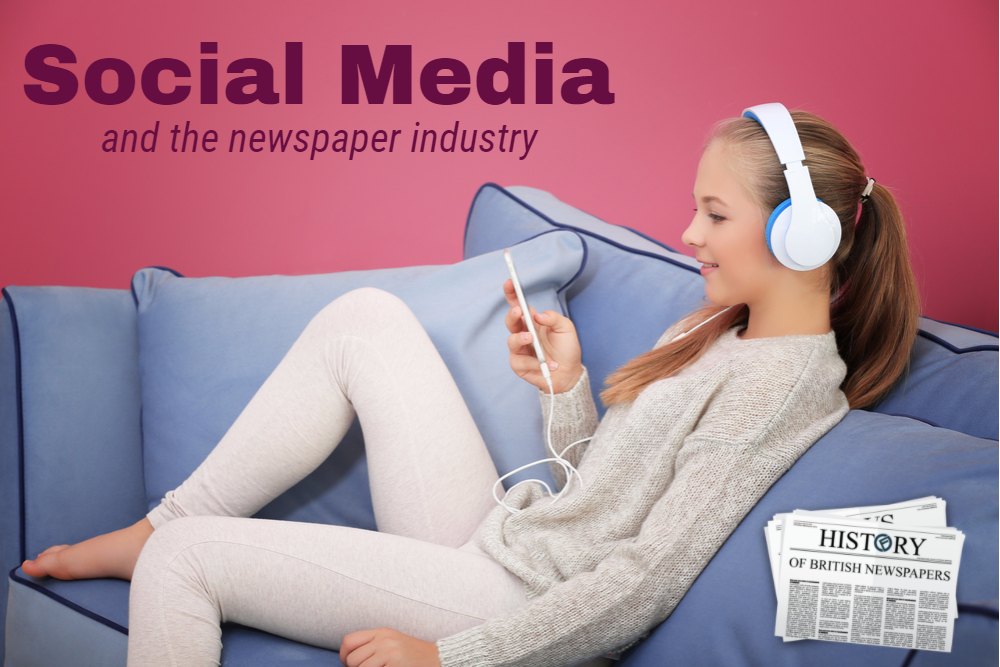 Most British national newspapers have an official 'blue ticked' Twitter account. The television news channels also have a social media presence, a notable one being BBC Breaking News. Here, you would find out, very briefly (as the limited word count dictates), what has just happened on an international level.
The thirst for breaking news is symptomatic of the busy lives of today. We grab a few moments to scroll through Twitter to make sure we are not missing out on anything. Checking helps keep us informed and abreast of anything we feel we need to know. Is it due to a fast paced lifestyle or an inability to be separated from the phone for more than a few moments? That is another question.

Spreading the News Further
Social media not only helps to circulate news out there in the wider domain, reaching far more people than they normally would in print form, it also gives readers a voice – an instant one. Let's take the 1990s as an example. Then, readers could write in to a newspaper – and they still do to some extent, e.g. problem pages. The big difference is that now they can access the paper straight away through re-tweeting.
Readers can even quote a tweet which enables them to comment to all of their followers, which would then include a link to the relevant tweet. This would show up as a social media interaction for that newspaper, as it would be clear someone has shared their tweet. It also means for the 'Twittersphere' that, as a result of this, the followers of this individual would receive a snippet of news from him/her. They might not have seen it before if they are not a follower and not a reader of that newspaper in digital form. It also helps the individual to network, either professionally or socially, and enables their voice to be heard.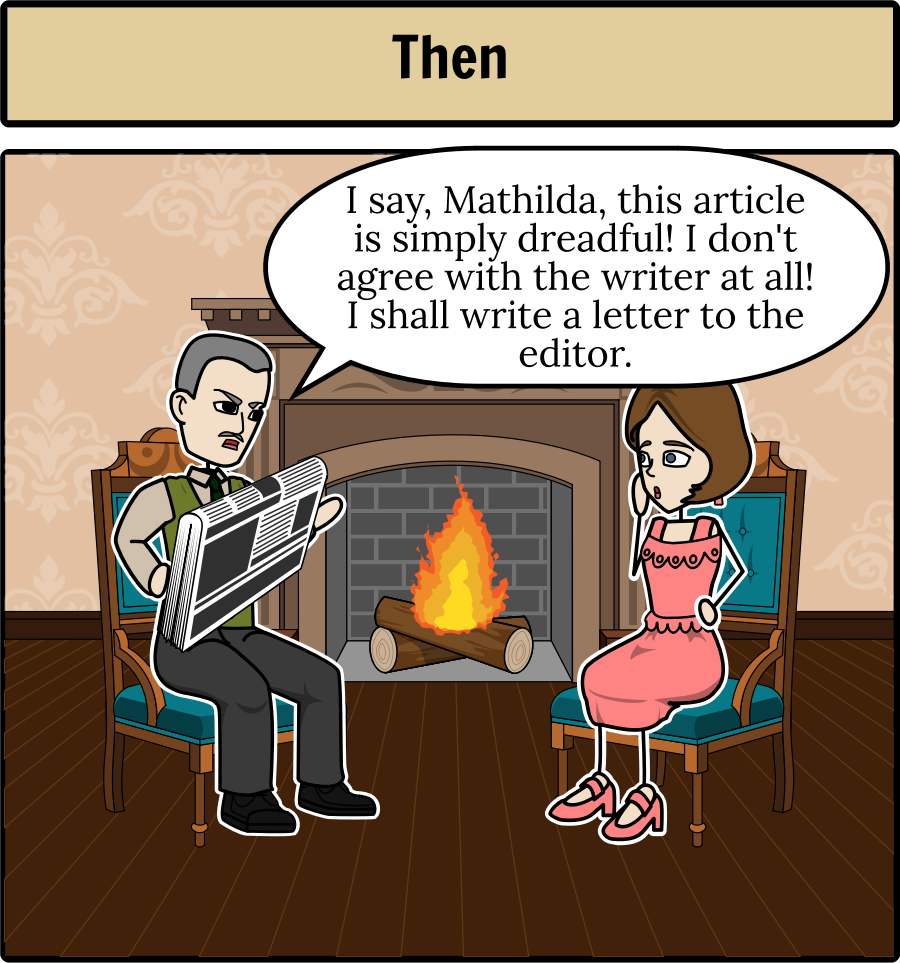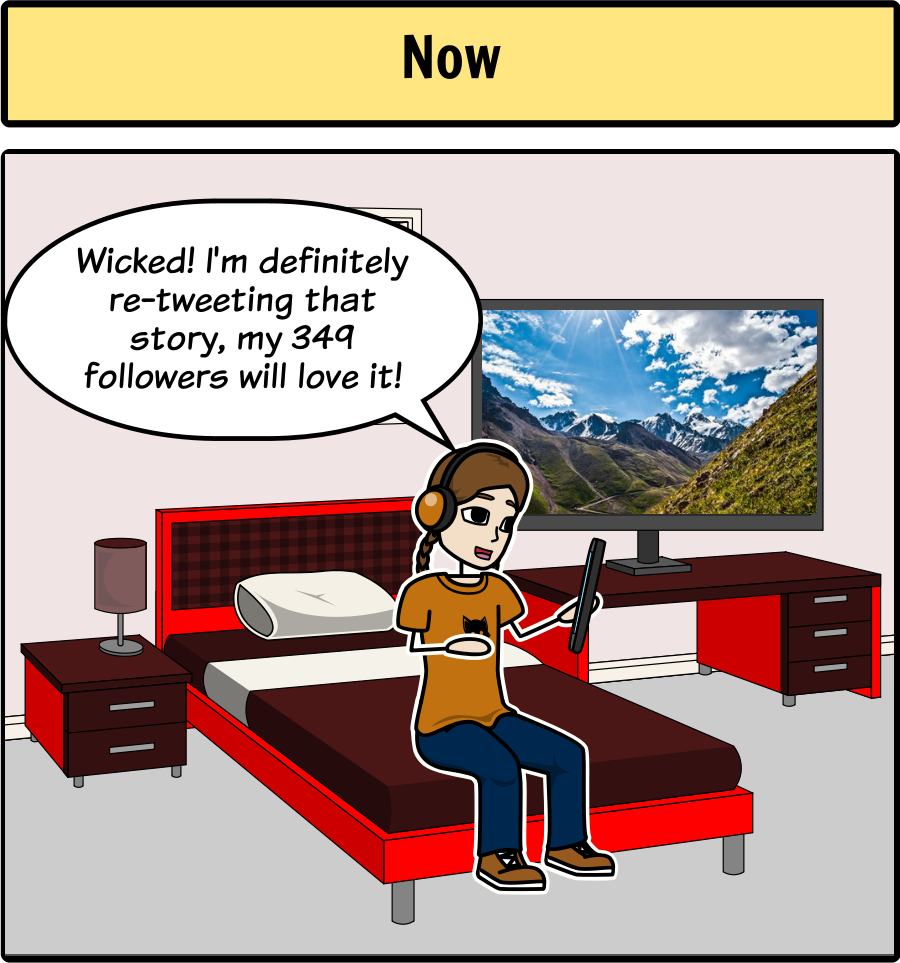 The age range of the audience may also fluctuate depending on influence from celebrities, for example, who might be following a newspaper on Twitter.
Twitter for news stories and journalists
Twitter hashtags are commonplace on television now, particularly when programmes go to a commercial break. They give viewers a chance to go online and comment during the advertisements. Apart from enabling engagement, personal involvement, and opinions to be heard, this also gives those channels and production companies a clear view from the public on popularity and demand.
The same goes for newspapers. Tweeting about a particular news story, often the more controversial ones, would show up as a trend for that news organisation. Consequently, they get to know what their readers are reading and talking about the most. The newspaper article itself may have some link to a Twitter hashtag, which can then be shared and will naturally trend thereafter.

Twitter hashtags
Readers and viewers can easily share their opinion on a topic by using the dedicated hashtag on Twitter.
Furthermore, a lot of journalists now have Twitter accounts. These enable active debate and followers to keep up with the work and views of the writers. The Twitter accounts usually appear underneath their articles, and this gives a reader immediate access to them should they want to agree or disagree with an article they have just read. This also gives the news organisation, and the journalist, an instant view of how the public domain is receiving their work.
Anyone Can Share News
Social media also provides a platform for consumers of such articles to become news reporters in their own right, albeit on a somewhat smaller scale. With events taking place, individuals often find themselves right in the heart of the action, and of course, they are usually equipped with their Smartphone. Footage is often filmed and posted to social media websites and YouTube, which consequently allows that person or group of people to be the ones to break the news. It is not uncommon for stories to be revealed firstly on Twitter or Facebook. This natural behaviour has allowed readers and viewers of the news to embrace a greater interactivity with it.
You can be a Breaking News reporter! All you need is internet access and some news.
Click To Tweet
Social media provides a vast range of opportunities for people to share their thoughts and feelings in a non-restrictive way, empowering them to share their opinion with the world. Aspiring journalists may start to use it as a tool to build up a profile, and could even end up with a large group of followers. In turn, this provides them with an excellent networking platform and client base.
Just like the work that goes into a newspaper website, social media sites such as Facebook need people working for them. Their jobs include ensuring relevant articles that are trending are listed appropriately and strategically. They can determine which articles to feature by user preference such as how many 'likes' an article or post has. Facebook is viewed as the leading social media network, so it is reassuring that they are trying to ensure they cater to demand and take popularity into account.
Are Social Media Platforms Ruining the Newspaper Industry?
Interestingly, in a recent article in The Guardian, social media was blamed for a predicted decline in the news industry within the next ten years. The article is titled, 'Facebook and other platforms will rob UK news industry of £450m by 2026' and featured underneath is a large icon of a thumb pointing downwards, the opposite to the ever popular 'like' (thumb up) button on Facebook.
Strategy consultants OC&C had predicted that:
"…based on the impact of platforms on other mature media markets such as music, about 30% of annual digital revenue could go to platforms. That would mean the likes of Facebook and Apple taking between £200m and £250m a year this year, rising to between £400m and £450m from 2026."
This is reportedly in addition to almost half of the total revenue lost ("about £3.5bn") to the digital industry. They warn that digital ads and subscriptions won't make up for the money lost with the reduced print advertising and sales. So, judging by the earlier declines in print circulation figures that were due to the surge of social media and the preference for digital accessibility, this is predicting a realistic picture. Digital technology is advancing daily, so it is not surprising that the industry will feel some changes. However, the OC&C do suggest, "there are a number of measures news publishers can take to mitigate the impact of the shift to consumption on platforms. These include making sure their brand is prominent, both to stand out and to bring people to their own sites, and making the most of partnerships with platforms." Organisations are therefore encouraged to move in the digital direction. Most are already incorporating social media features, recognising that the consumer reads a lot of news content these days.
Back in September 2009, Nic Newman produced a report on 'The Rise of Social Media and its Impact on Mainstream Journalism,' detailing how newspapers and broadcasters are responding to this new wave of media. He also acknowledged that photo and video content from members of the public 'on the scene' were leading journalism, as well as a rise in the blog (mentioned below). At the time of his report, "social networking was… accounting for almost 20 percent of internet time…" I would imagine that this figure is significantly higher today.
Twitter Trends
Following Technology

The most followed newspaper Twitter account in 2014 was The Guardian's technology account, with 2.14 million followers. Compare this to the 1.97 million followers of the main Guardian Twitter feed, and we see a clear difference. Of course, some of those followers could be the same person, but there is also a possibility that, as the technology account is catering to a particular group of readers, they could be completely separate followers. Again, trending may help differentiate. I'll compare the latest Twitter follower figures later on in the article.
Following Journalists

The same year (2014) it was revealed on The Guardian website that some journalists have a greater number of followers than the newspaper Twitter accounts to which they are affiliated. In my view, this is attributable to the fact that opinions matter and opinions get people talking, more so than the stories; the stories are fact, but opinion is subjective. So, if someone enjoys reading a particular column by a particular journalist, and they perhaps share the same views, they could be more likely to follow this individual on Twitter.
Other Social Media Platforms
As well as Facebook and Twitter, Instagram and Snapchat are becoming popular forms of social media. Both of these are mainly photo-based platforms but does still provide users with the option to comment and tag others.
'We are Social' conducted a study in 2015, the results of which confirmed, as expected, that Facebook is the leading social network with 43% of the population using it. They also found that 19% were using Twitter and a low 9% used LinkedIn, which is regarded as a professional outlet for networking. Popularity would suggest that it is not being used as effectively as it could be when compared to Facebook. LinkedIn is a more professional set up and is very business driven. However, these percentages speak volumes as, clearly, more individuals are motivated to check Facebook on a more frequent basis.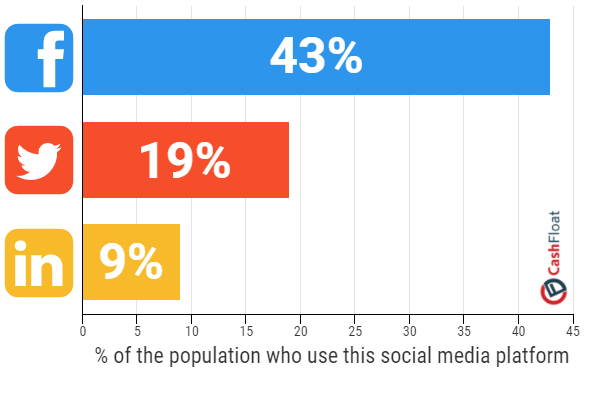 Concerning rewarding consumers for using social media, and continuing to do so, figures from a survey undertaken in 2015 by Statistica are very revealing. They ranked the most popular reason for someone to interact with a company via social media as being 'in order to receive offers or competitions' (69% Twitter; 68% Facebook. The lowest ranked reason was 'to show other people I like them' (18% Twitter, 26% Facebook). These statistics are representative of the fact individuals are 'owning' their interactions, and not doing it to please the norm.
The Twittersphere
Twitter is the perfect vehicle for communicating brief news alerts to customers. Social media allows this news to be available at somebody's fingertips, and it also enables individuals to interact with the news by four simple actions:
tweeting (your own news)
replying to a tweet
re-tweeting (someone else's news)
quoting tweet (sharing someone else's news but adding your own tweet to it)
You can also like a tweet and share the link (by message or email, for example).
Twitter Features that Help the Newspaper Industry
Re-tweeting or quoting tweets encourages readers to share stories and comments
Hashtag helps stories and ideas to spread, producing valuable feedback
Images are allowed, which can contribute towards more views
Links to the full story can be shared, generating visitors to the site
Followers enable stories to be spread quickly to a large audience
Hashtags
Hashtags are part of Twitter life, as they allow stories to trend. Various organisations and the media then use this to establish what the most popular story, and type of story, is. As the top twenty hashtag tweets appear on the home screen, this provides the consumer with a news chart which they can access immediately before even entering their own profile and news feed.
A particular hashtag might lure a reader in because of what it relates to, or just because it sounds interesting. Once they have read the particular tweet, they would then have the option to reply, share or quote. It might be that they do not wish to do anything with it, but it will show up as a view somewhere in the Twittersphere system.
Images and Links
Hashtags are not the only tools that you can use within tweets. Images can also be posted, just like they can on Facebook, as well as GIFs and maps. You can also add links to other sites within your tweets, which again is another good example of sharing. You just need to be mindful of the 140 character limit. For instance, you might have seen a news article online, and you want to quickly post it out on Twitter as something of interest to your followers. The online version of the newspaper has the necessary functionality to enable you to share the link directly or, alternatively, it is a quick 'cut and paste' exercise before dissemination.
Followers
Followers are an extremely important part of social media interactions as they are the audience to the news being communicated. It is not necessarily a popularity contest but, in a way, it could be described as such since the higher your number of followers, the more people there are who want to hear your news. The number of likes and re-tweets can also be significant for an individual as well as an organisation, as it gives an instant view of the popularity of content as well as public opinion. A high number of likes would suggest a tweet has been well received.
This feedback is particularly important for the newspapers who are trying to embrace digital technology and cater for the more modern market. Online competition is real and newspapers, like any other business, need to stay ahead of the game. So, if two newspapers tweeted about the same news story, they could learn a lot by looking at whose tweet was liked or shared more.

Ultimately, in this digital age, maintaining social media interactions and followers when it comes to Twitter is significant. Someone can unfollow just as quickly as they can follow, so their interest needs to be maintained. This is not dissimilar to that of the print form, as someone can just as easily choose to pick up a paper or put it down, nor is it particularly different to losing subscribers of online content. It is the harsh reality of how quickly things are evolving, and effort needs to be maintained to retain consumers.
Which Newspaper Is the Most Popular Online?
So, let's investigate the figures. In terms of Twitter, the most followed newspaper is The Guardian (@theguardian) with 5.9 million followers, although their 'News' account has a lower number of followers at 2.5 million. The Guardian Jobs Twitter account is trailing behind with 65.1k followers.
A breakdown of the newspapers and their followers can be found below:
The Guardian – 5.9m
Guardian News – 2.5m
Guardian Tech – 2.5m
Telegraph – 1.8m
The Sun – 1.1m
The Times – 865k
The Mirror – 813k
Telegraph news – 716k
Guardian Sport – 698k
Daily Express – 592k
Guardian Film – 308k
Daily Star Celebrity page – 227k
Guardian Education – 218k
Daily Star – 159k
Telegraph football – 198k
Telegraph sport – 192k
Guardian Teach – 132k
i News – 83.5k
Guardian Jobs – 65.1k
The Guardian
The Guardian leads the race with the top three followed Twitter newspaper accounts. However, some of their specialist accounts feature further down the list. For example, Guardian Jobs, with the lowest number of followers in comparison.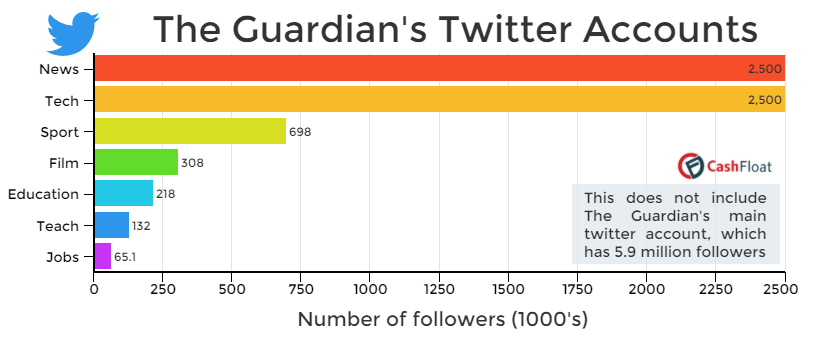 Daily Star
Interestingly, the Daily Star has 159k followers, but their special Celebrity Page account has 227k followers, showing that celebrity-specific news is more popular.
The Sun
The Sun newspaper in print form leads the circulation race with 1,755,331 copies based on figures achieved in June 2016. In the Twittersphere, The Sun has 1.1 million followers, which is an adequate number. It was, therefore, interesting to notice that the top hashtag trend (out of twenty), which had been tweeted 7,136 times, was #DontBuyTheSun. Whilst there are a lot of readers who buy the print copy, making it the highest selling British daily tabloid, there are clearly others who have taken a dislike to the newspaper. There is also a Facebook page devoted to this plea, and it is all relating to the 23-year boycott of the newspaper by supporters of Liverpool Football Club, as a result of their false claims regarding events at the Hillsborough disaster in 1989.
BBC Breaking News
The above follower figures are respectable and are, predictably, likely to grow further as we digitally evolve. There are clearly some outliers within the Twitter game. However, when you compare the number of followers above to that of the BBC Breaking News Twitter account, they still have some way to go. The BBC Breaking News account has a staggering 26.2 million followers, and this must be due to the fact they are leading the way with the reporting of breaking news via social media.